Bible Verses About Patience
Many Bible verses about patience are centered around faith and hope in Jesus Christ, making it obvious that patience in our lives will be much easier to attain if we embrace this very faith and hope in Jesus. Here are over twenty verses about patience.
But that on the good ground are they, which in an honest and good heart, having heard the word, keep it, and bring forth fruit with patience (Luke 8:15).

By your patience possess your souls (Luke 21:19 NKJV).
Rest in the Lord, and wait patiently for Him; Do not fret because of him who prospers in his way, Because of the man who brings wicked schemes to pass (Psalm 37:7 NKJV).

By whom also we have access by faith into this grace wherein we stand, and rejoice in hope of the glory of God. And not only so, but we glory in tribulations also: knowing that tribulation worketh patience; And patience, experience; and experience, hope (Romans 5:2-4).
Better is the end of a thing than the beginning thereof: and the patient in spirit is better than the proud in spirit (Ecclesiastes 7:8).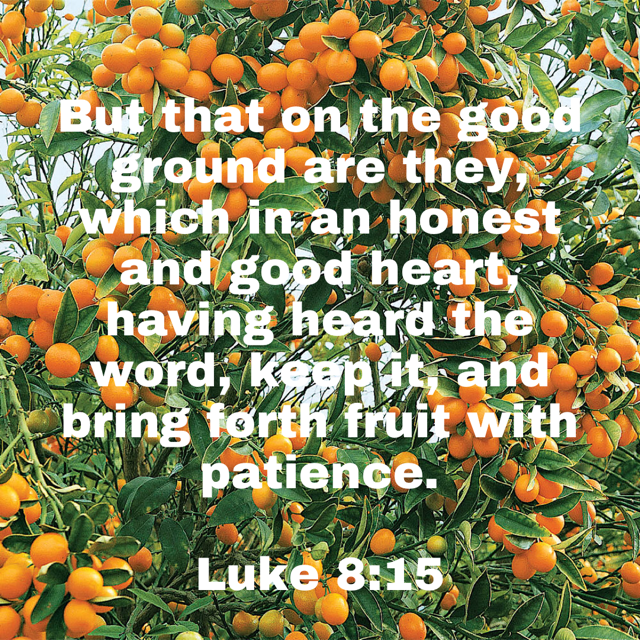 But if we hope for that we see not, then do we with patience wait for it (Romans 8:25).

For whatsoever things were written aforetime were written for our learning, that we through patience and comfort of the scriptures might have hope. Now the God of patience and consolation grant you to be likeminded one toward another according to Christ Jesus (Romans 15:4-5).
But in all things approving ourselves as the ministers of God, in much patience, in afflictions, in necessities, in distresses, In stripes, in imprisonments, in tumults, in labours, in watchings, in fastings (2 Corinthians 6:4-5).
That ye might walk worthy of the Lord unto all pleasing, being fruitful in every good work, and increasing in the knowledge of God; Strengthened with all might, according to his glorious power, unto all patience and longsuffering with joyfulness (Colossians 1:10-11).
Remembering without ceasing your work of faith, and labour of love, and patience of hope in our Lord Jesus Christ, in the sight of God and our Father (1 Thessalonians 1:3).

So that we ourselves glory in you in the churches of God for your patience and faith in all your persecutions and tribulations that ye endure (2 Thessalonians 1:4).

But thou hast fully known my doctrine, manner of life, purpose, faith, longsuffering, charity, patience (2 Timothy 3:10).

That the aged men be sober, grave, temperate, sound in faith, in charity, in patience (Titus 2:2).

That ye be not slothful, but followers of them who through faith and patience inherit the promises (Hebrews 6:12).

Wherefore seeing we also are compassed about with so great a cloud of witnesses, let us lay aside every weight, and the sin which doth so easily beset us, and let us run with patience the race that is set before us (Hebrews 12:1).

Knowing this, that the trying of your faith worketh patience. But let patience have her perfect work, that ye may be perfect and entire, wanting nothing (James 1:3-4).
For what glory is it, if, when ye be buffeted for your faults, ye shall take it patiently? but if, when ye do well, and suffer for it, ye take it patiently, this is acceptable with God (1 Peter 2:20).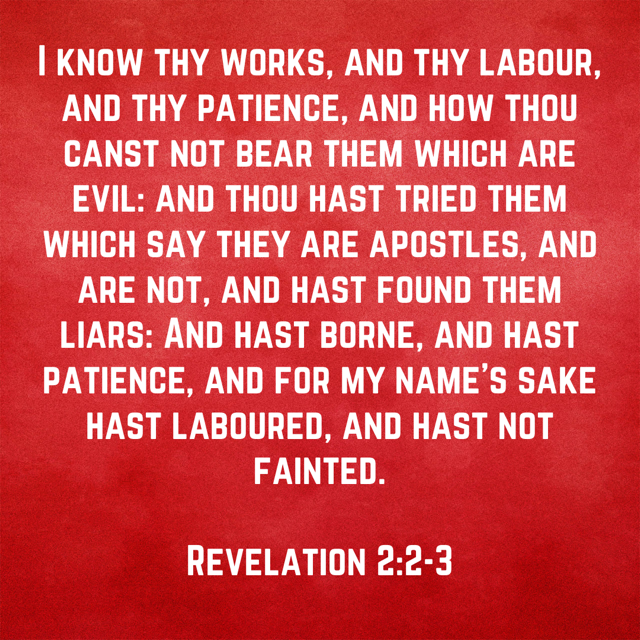 And beside this, giving all diligence, add to your faith virtue; and to virtue knowledge; And to knowledge temperance; and to temperance patience; and to patience godliness; And to godliness brotherly kindness; and to brotherly kindness charity (2 Peter 1:5-7).
I know thy works, and thy labour, and thy patience, and how thou canst not bear them which are evil: and thou hast tried them which say they are apostles, and are not, and hast found them liars: And hast borne, and hast patience, and for my name's sake hast laboured, and hast not fainted (Revelation 2:2-3).
Because thou hast kept the word of my patience, I also will keep thee from the hour of temptation, which shall come upon all the world, to try them that dwell upon the earth (Revelation 3:10).

Here is the patience of the saints: here are they that keep the commandments of God, and the faith of Jesus (Revelation 14:12).

From Bible Verses About Patience to Faith


From Bible Verses About Patience to Hope


From Bible Verses About Patience to Bible Verses