Gospel Preaching
The Need to Hear Gospel Preaching
The Apostle Paul plainly states that the hearing of gospel preaching will bring forth belief and faith. It is important to remember while reading this that the "good news" is the gospel.
How then will they call on him in whom they have not believed? And how are they to believe in him of whom they have never heard? And how are they to hear without someone preaching? And how are they to preach unless they are sent? As it is written, "How beautiful are the feet of those who preach the good news!" But they have not all obeyed the gospel. For Isaiah says, "Lord, who has believed what he has heard from us?" So faith comes from hearing, and hearing through the word of Christ (Romans 10:14-17 ESV).
Paul also says those that preach a different message than the gospel will be accursed. In fact he says it two verses in a row to ensure we don't miss this!
I am astonished that you are so quickly deserting him who called you in the grace of Christ and are turning to a different gospel—not that there is another one, but there are some who trouble you and want to distort the gospel of Christ. But even if we or an angel from heaven should preach to you a gospel contrary to the one we preached to you, let him be accursed. As we have said before, so now I say again: If anyone is preaching to you a gospel contrary to the one you received, let him be accursed (Galatians 1:6-9 ESV).
When Jesus was speaking to His disciples he told them not to listen to the Pharisees as they were blind guides. He told us what undoubtedly happens to blind guides and the blind that follow them:
Then the disciples came and said to him, "Do you know that the Pharisees were offended when they heard this saying?" He answered, "Every plant that my heavenly Father has not planted will be rooted up. Let them alone; they are blind guides. And if the blind lead the blind, both will fall into a pit" (Matthew 15:12-14 ESV).
Jesus, as the head of the Church, gave us the five-fold ministry as our guides:
And he gave some, apostles; and some, prophets; and some, evangelists; and some, pastors and teachers (Ephesians 4:12).
They were given to preach and teach the Word of God, which obviously includes the gospel. When the gospel is not preached the way it was first preached by the Apostles in the first century, both those that preach this perverted gospel and those that follow the preaching of a perverted gospel will fall into a pit.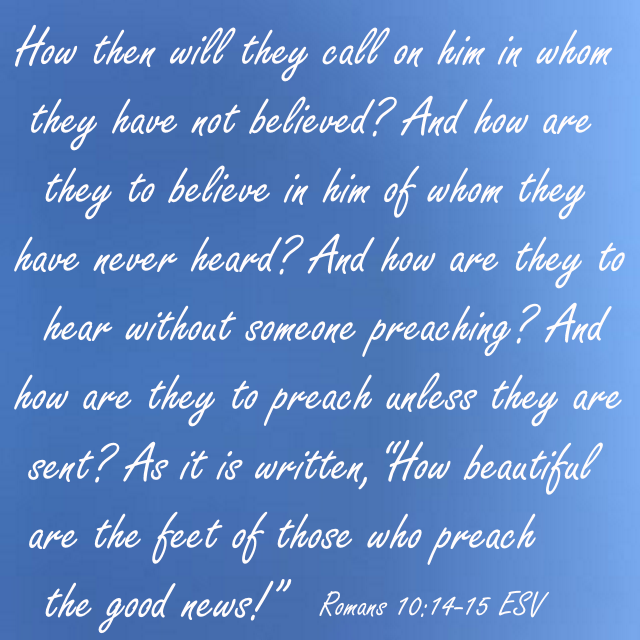 So what is gospel preaching?
The Apostle Paul clearly defined the gospel as the death, burial and resurrection of Jesus Christ in 1 Corinthians 15:1-4. Lost souls must obey the gospel to get to heaven (2 Thessalonians 1:7-8). Obedience to the gospel was preached by the Apostle Peter the day the Church was born. On the day of Pentecost Peter declared:
Repent, be baptized every one of you in the name of Jesus Christ for the remission of sins and you shall receive the gift of the Holy Ghost (Acts 2:38).
It follows then that:
Death is repentance,
Resurrection is receiving the gift of the Holy Ghost
Jesus said:
.....I say unto thee, Except a man be born again, he cannot see the kingdom of God. (John 3:6)
After that he told us what being born again means:

.... Except a man be born of water and of the Spirit, he cannot enter into the kingdom of God. (John 3:5)
Being born of water happens when you are baptized in the name of Jesus Christ for the remission of sins and being born of the Spirit is receiving the gift of the Holy Ghost. When You receive the gift of the Holy Ghost, you will know it because you will speak in tongues as the spirit gave utterance. Gospel preaching will teach you that this is the Pentecostal experience. 

Signs and Wonders
There will always be signs and wonders - supernatural miracles that God performs- associated with Gospel preaching. Paul says that in these two verses of scripture:
Through mighty signs and wonders, by the power of the Spirit of God; so that from Jerusalem, and round about unto Illyricum, I have fully preached the gospel of Christ (Romans 15:19 ).
Truly the signs of an apostle were wrought among you in all patience, in signs, and wonders, and mighty deeds (2 Corinthians 12:12  ).
The greatest miracle that we witness, when and where gospel preaching occurs, is the infilling of the Holy Ghost, with the evidence of speaking in tongues, as is readily seen when we read Acts 2:1-40,  Acts 10:44-48 and Acts 19:1-6.
Other Essential Elements about Gospel Preaching 
Where the Gospel of Jesus Christ is preached, the fact that Jesus is God will also be preached. Gospel preaching will also include the grace of God and how you cannot  believe and have  faith in God without being obedient to Him. This preaching will also leave you with a clear understanding about loving God and loving others, about trust and hope, and about praise and worship. Where the gospel is preached you will also learn why having a prayer life and attending church whenever the doors are open is essential when you are living for God. In addition you will learn how the Old Testament is the school master to Jesus Christ.
Do you hear gospel preaching from the pulpit where you attend Church today?
Please give that question some honest objective consideration. If you don't here 1 Corinthians 15:1-4, Acts 2:38, John 3:3-5 preached from the pulpit, or don't see supernatural miracles, or don't hear the other essential elements about gospel preaching in the church that you are attending today, I can promise you that you are attending a church where the "blind are being led by the blind".
Fortunately, if this is the case, all you need to do is repent of your sins, turn fully to God, and start attending a church where gospel preaching is part of the Word of God.
From Gospel Preaching  to Church