Speaking in Tongues
Speaking in Tongues was Prophesied
Speaking in tongues was prophesied in the Old Testament and we know that the Old Testament is our schoolmaster that will bring us to Jesus Christ. The Apostle Paul wrote:
Wherefore the law was our schoolmaster to bring us unto Christ, that we might be justified by faith (Galatians 3:24).
One of Isaiah's many prophesies is about speaking in tongues:
For with stammering lips and another tongue will he speak to this people. To whom he said, This is the rest wherewith ye may cause the weary to rest; and this is the refreshing: yet they would not hear (Isaiah 28:11-12).
Paul verified these verses were a fulfillment of prophesy when he was writing his first letter to the church in Corinth:
In the law it is written, With men of other tongues and other lips will I speak unto this people; and yet for all that will they not hear me, saith the Lord (1 Corinthians 14:21).

About one hundred years after Isaiah, the prophet Joel prophesied about speaking in tongues as well:
And it shall come to pass afterward, that I will pour out my spirit upon all flesh; and your sons and your daughters shall prophesy, your old men shall dream dreams, your young men shall see visions (Joel 2:28).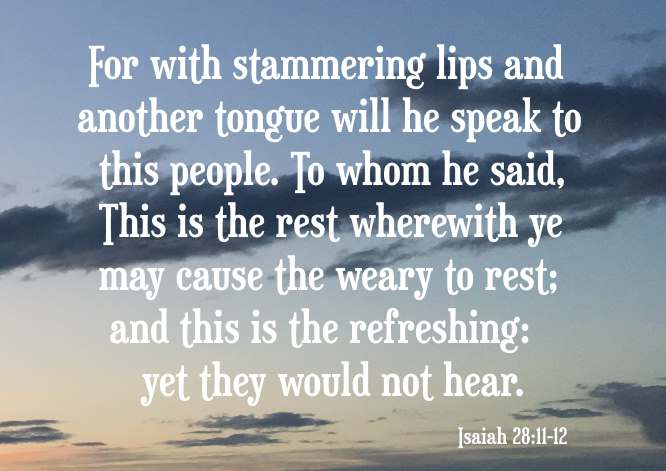 We know these prophecies were about speaking in tongues when God poured out His Spirit on mankind on the day of Pentecost:
And when the day of Pentecost was fully come, they were all with one accord in one place. And suddenly there came a sound from heaven as of a rushing mighty wind, and it filled all the house where they were sitting. And there appeared unto them cloven tongues like as of fire, and it sat upon each of them. And they were all filled with the Holy Ghost, and began to speak with other tongues, as the Spirit gave them utterance (Acts 2:1-4).
Cretes and Arabians, we do hear them speak in our tongues the wonderful works of God (Acts 2:11).

When the people in Jerusalem claimed that the one hundred and twenty in the Upper Room were drunk on wine  (Acts 2:6-14), the Apostle Peter responded by saying they were not drunk as they supposed but it was what Joel prophesied:
For these are not drunken, as ye suppose, seeing it is but the third hour of the day. But this is that which was spoken by the prophet Joel; And it shall come to pass in the last days, saith God, I will pour out of my Spirit upon all flesh: and your sons and your daughters shall prophesy, and your young men shall see visions, and your old men shall dream dreams: And on my servants and on my handmaidens I will pour out in those days of my Spirit; and they shall prophesy (Acts 2:15-18).
We know for a fact that is what Peter meant as he said so later in his sermon:
Therefore being by the right hand of God exalted, and having received of the Father the promise of the Holy Ghost, he hath shed forth this, which ye now see and hear (Acts 2:33).

They were drunk in the Holy Ghost!
God had it planned from the beginning that those who obeyed the Gospel of Jesus Christ would be provided evidence that He took residence in them! He never wanted to leave anybody guessing about the validity of receiving this precious gift.
What did Jesus say about Speaking in Tongues?
After Jesus said you must be born again John 3:3-5 to enter the kingdom of heaven, He compared being born of the Spirit to wind,
The wind blows where it wishes, and you hear its sound, but you do not know where it comes from or where it goes. So it is with everyone who is born of the Spirit (John 3:8 ESV).
or from the Message translation:
So don't be so surprised when I tell you that you have to be 'born from above'—out of this world, so to speak. You know well enough how the wind blows this way and that. You hear it rustling through the trees, but you have no idea where it comes from or where it's headed next. That's the way it is with everyone 'born from above' by the wind of God, the Spirit of God (John 3:7-8 MESSAGE).

As we just read, Jesus said that when you are born of the Spirit you will hear its sound. This is what happened in Acts 2:4, when the one hundred and twenty in the Upper Room were filled with the Holy Spirit, they heard it, they spoke in tongues as the Spirit prompted or enabled them.
The Great Commission

Jesus, before He ascended to heaven, made it clear that those that believe in Him, would speak in tongues:
And these signs shall follow them that believe; In my name shall they cast out devils; they shall speak with new tongues (Mark 16:17).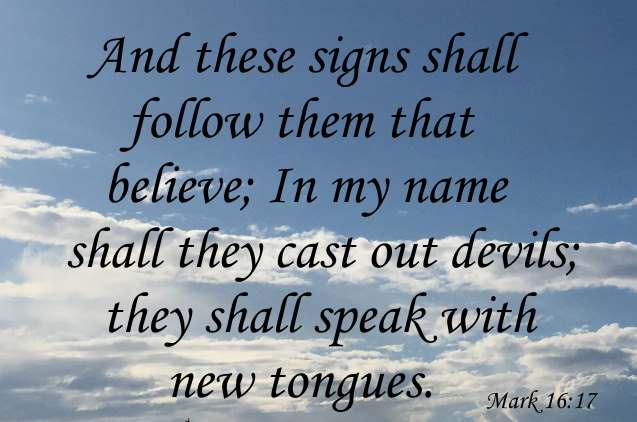 As the Lord said, speaking in tongues is a "sign" that one believes in Him. Many say that they are saved because they believe in Him. In that case, He says there will be a sign - "they shall speak with new tongues". Clearly, if we do not speak in tongues, He is telling us in this verse that you do not fully believe in Him. Let us take heed!

The Acts of the Apostles
As further proof that when God fills someone with His Holy Spirit that they will speak with tongues, Luke recorded two more specific cases involving the apostles:
For they heard them speak with tongues, and magnify God ..... (Acts 10:46).
And when Paul had laid his hands upon them, the Holy Ghost came on them; and they spake with tongues, and prophesied (Acts 19:6).
Notice that in these two cases (and the same would have been true the day of Pentecost), that all of the unsaved souls, spoke in tongues. Without a doubt, this is further proof that speaking in tongues is unto itself, totally separate from receiving the manifestation or the gift of the Spirit as Paul describes in 1 Corinthians 12:8-10. Why is this? Because in verse 11, Paul states that the Spirit divides these manifestations or gifts "severally".
But all these worketh that one and the selfsame Spirit, dividing to every man severally as he will (1 Corinthians 12:11).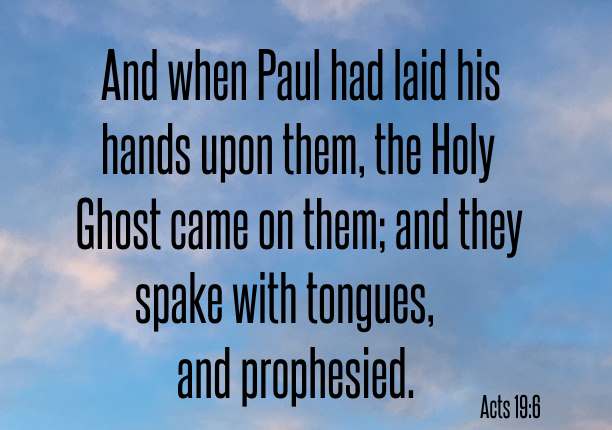 The word severally, in the Greek is "idios G2938" and it means "pertaining to oneself, one's own; used a. universally, of what is one's own as opposed to belonging to another".  In other words, not all would have received the same gift, in this case "speaking in tongues" and the other eight manifestations or gifts of the Spirit would have been divided among the lost. But that did not happen the day of Pentecost, in Cornelius' household or with John the Baptist's disciples - they all spoke in tongues as the Spirit gave utterance, or enabled, or prompted them. Hallelujah!

The Epistles
The only Epistle where speaking in tongues is written about in detail is in the Apostle Paul's teaching about tongues in his First Epistle to the Corinthians:
Tongues as a gift of the Spirit (1 Corinthians 12:1-31),
Tongues will be spoken until Jesus returns but love will last for eternity (1 Corinthians 13:1-13), and
 Use of tongues in the Church (1 Corinthians 14:1-40).
Gift of Tongues
The gift of "divers kinds of tongues" is one of the nine gifts (or manifestations) of the Spirit that Paul discusses in 1 Corinthians 12:1-11. These nine gifts of the Spirit are:
word of wisdom
word of knowledge
faith 
gifts of healing

working of miracles
prophecy
discerning of spirits
divers kinds of tongues
interpretation of tongues

As discussed above under "The Acts of the Apostles", God intended these gifts to be divided among the body of Christ, His Church. This is easily understood by reading 1 Corinthians 12:11-30.
Tongues will last until the Rapture but Love will last for Eternity
In 1 Corinthians 12, Paul concluded his discourse by telling us that there will be a more excellent way than speaking in tongues or receiving the other gifts of the Spirit:
But covet earnestly the best gifts: and yet shew I unto you a more excellent way (1 Corinthians 12:31).

He starts Chapter 13, by telling us that love (charity) is the "more excellent way":
Though I speak with the tongues of men and of angels, and have not charity, I am become as sounding brass, or a tinkling cymbal (1 Corinthians 13:1).
He continued talking about the beauty of love - 1 Corinthians 13:2-7 and then tells us that love will be eternal but the gifts of the Spirit (including speaking in tongues) will cease when Christ returns:
Charity never faileth: but whether there be prophecies, they shall fail; whether there be tongues, they shall cease; whether there be knowledge, it shall vanish away.  For we know in part, and we prophesy in part. But when that which is perfect is come, then that which is in part shall be done away. When I was a child, I spake as a child, I understood as a child, I thought as a child: but when I became a man, I put away childish things. For now we see through a glass, darkly; but then face to face: now I know in part; but then shall I know even as also I am known (1 Corinthians 13:8-12).
Speaking in Tongues in Church
In 1 Corinthians 14:1-40, Paul addresses the misuse of speaking  in tongues in church, and gives the congregation rules and guidelines about the proper use of the gift of tongues, gift of prophesy and the gift of interpretation of tongues.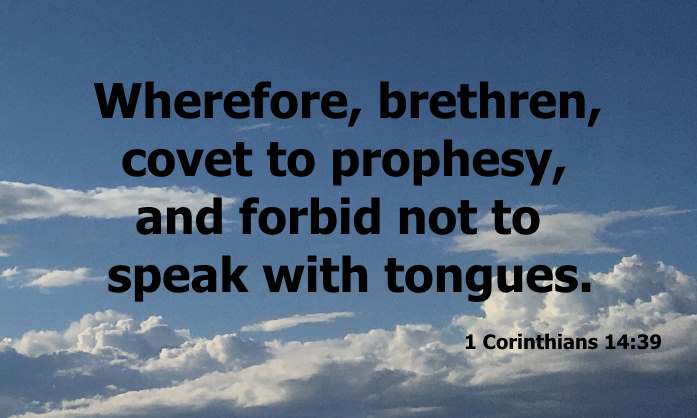 Paul concludes Chapter 14 by saying that speaking in tongues shall not be forbidden in church and all things shall be done decently and in order:
Wherefore, brethren, covet to prophesy, and forbid not to speak with tongues. Let all things be done decently and in order (1 Corinthians 14:39-40).
Why Speaking in Tongues?
We know through scripture that God's ways and thoughts are higher than our ways or thoughts (Isaiah 55:8-9). So who really knows why He used speaking in tongues as the sign believers would use (Mark 16:17)?
Over the years, I have been taught and have read on many occasions, that it comes from taming the unruly tongue of mankind as James wrote:
Even so the tongue is a little member, and boasteth great things. Behold, how great a matter a little fire kindleth! And the tongue is a fire, a world of iniquity: so is the tongue among our members, that it defileth the whole body, and setteth on fire the course of nature; and it is set on fire of hell. For every kind of beasts, and of birds, and of serpents, and of things in the sea, is tamed, and hath been tamed of mankind: But the tongue can no man tame; it is an unruly evil, full of deadly poison (James 3:5-8).
When we surrender to Jesus, He will be able to take control of our tongues. The evidence of speaking in tongues is His way of showing us that He has dominion over our lives. This is true today as speaking in tongues has not ceased and will not until He returns.
From Speaking in Tongues to Acts 2:38


From Speaking in Tongues to Born Again