Jesus is Light
Jesus is light! He tells us that on the day of His triumphant entry into Jerusalem (John 12:12-15), just after He said that He was going to be lifted up, be crucified (John 12:32-33):
The light is among you for a little while longer. Walk while you have the light, lest darkness overtake you. The one who walks in the darkness does not know where he is going. While you have the light, believe in the light, that you may become sons of light (John 12:35-36 ESV).
Jesus had previously proclaimed that He is the light:
Then spake Jesus again unto them, saying, I am the light of the world: he that followeth me shall not walk in darkness, but shall have the light of life (John 8:12).

From these two scriptures, we see that to have the Light, Jesus Christ, and not darkness, satan, we must believe in Him and follow Him.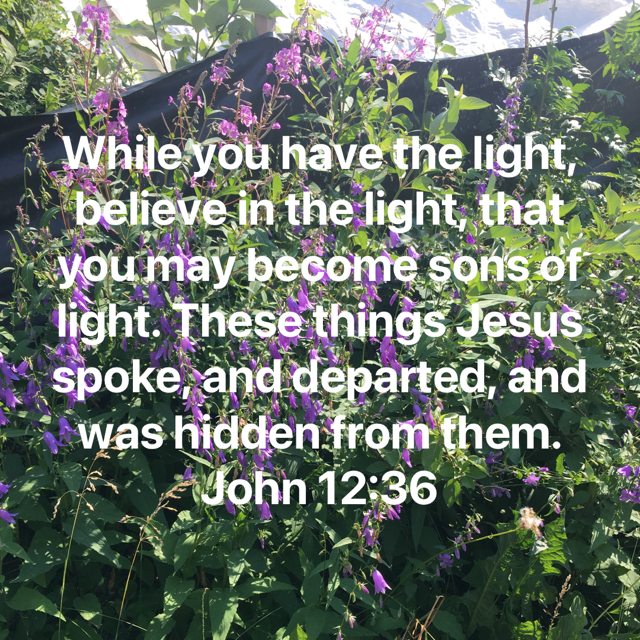 Believe in Him
Believing in Jesus gets us from the lost condition to the saved condition. This type of belief is not only mental assent that He is the Messiah and He died on the cross for our sins. It also means that as believers we will obey what He tells us to do. These are the words out of His mouth about believers:
They will repent:
And saying, The time is fulfilled, and the kingdom of God is at hand: repent ye, and believe the gospel (Mark 1:15).

They will be baptized:
He that believeth and is baptized shall be saved; but he that believeth not shall be damned (Mark 16:16).

They will receive the Holy Ghost
In the last day, that great day of the feast, Jesus stood and cried, saying, If any man thirst, let him come unto me, and drink. He that believeth on me, as the scripture hath said, out of his belly shall flow rivers of living water. (But this spake he of the Spirit, which they that believe on him should receive: for the Holy Ghost was not yet given; because that Jesus was not yet glorified (John 7:37-39).

They will speak in tongues:
And these signs shall follow them that believe; In my name shall they cast out devils; they shall speak with new tongues (Mark 16:17).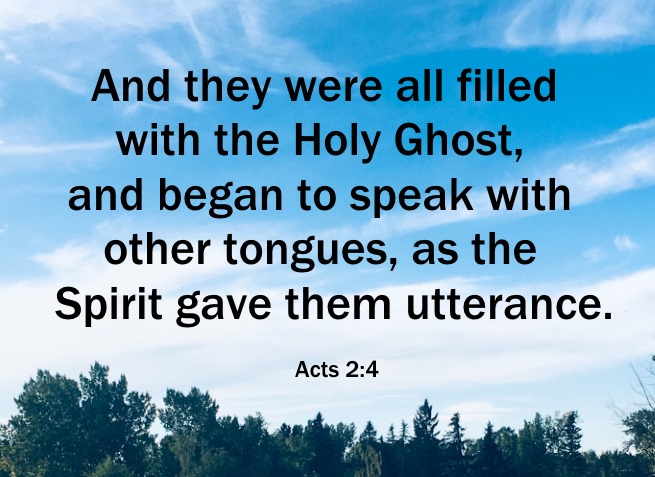 Did this happen?
Absolutely! On the day of Pentecost when God poured out the gift of Holy Ghost for the first time on humanity. The Light took residence in them:
And they were all filled with the Holy Ghost, and began to speak with other tongues, as the Spirit gave them utterance (Acts 2:4).

We know that Jesus is the Holy Ghost from scripture as readily seen in Rest in Jesus and Jesus is God.
On the day of Pentecost we see in Acts 2:1-47 that about 3000 souls, including Mary, the mother of Jesus, and His disciples (Acts 1:13-14) were filled with the Holy Ghost and then baptized in the name of Jesus Christ, just as the Apostle Peter preached in Acts 2:38.
Follow Him
To follow Jesus, as we learned in Christian Suffering, we need to take up His cross daily:
And he said to them all, If any man will come after me, let him deny himself, and take up his cross daily, and follow me (Luke 9:23).
Every day of our lives we need to live a repentant lifestyle, living a life that He wants us to live, thereby denying ourselves. This way, the Light will dwell in us, the temple of the living God, and He will be our Father and we will be sons and daughters of the Light:

And what agreement hath the temple of God with idols? for ye are the temple of the living God; as God hath said, I will dwell in them, and walk in them; and I will be their God, and they shall be my people. Wherefore come out from among them, and be ye separate, saith the Lord, and touch not the unclean thing; and I will receive you. And will be a Father unto you, and ye shall be my sons and daughters, saith the Lord Almighty (2 Corinthians 6:16-18)
In summation, the Apostle John wrote in 1 John that Jesus is Light and in Him there is no darkness:
This then is the message which we have heard of him, and declare unto you, that God is light, and in him is no darkness at all (1 John 1:5).

From Jesus is Light to One God