Crucifixion of Jesus Christ
The crucifixion of Jesus Christ is the greatest demonstration of love that the world has ever known. Jesus was fully God and He was fully man. He ate, He wept, He slept, and when He died on the cross He suffered so that we may have everlasting life with Him in heaven by giving us the opportunity to obey the Gospel of Jesus Christ and to say:
I am crucified with Christ: nevertheless I live; yet not I, but Christ liveth in me: and the life which I now live in the flesh I live by the faith of the Son of God, who loved me, and gave himself for me (Galatians 2:20).

Prophecy of Crucifixion of Jesus Christ
The crucifixion of Jesus Christ was prophesied in the Old Testament and fulfilled in the New Testament. Jesus could have come down from that cross, but knew that only His sacrifice, His crucifixion, His death would fulfill all prophesies of His demise:
Thinkest thou that I cannot now pray to my Father, and he shall presently give me more than twelve legions of angels? But how then shall the scriptures be fulfilled, that thus it must be? But all this was done, that the scriptures of the prophets might be fulfilled (Matthew 26:53-54,56).
Here are many prophecies about the crucifixion of Jesus Christ and their fulfillment:
---
He entered Jerusalem on a colt.
Prophecy: Rejoice greatly, O daughter of Zion; Shout, O daughter of Jerusalem:Behold, thy King cometh unto thee: He is just, and having salvation; Lowly, and riding upon an ass (Zechariah 9:9 ).
Fulfillment: And they brought him to Jesus: and they cast their garments upon the colt, and they set Jesus thereon (Luke 19:35).
---
He was sold for thirty pieces of silver.
Prophecy: So they weighed for my price thirty pieces of silver (Zechariah 11:12).
Fulfillment: And they covenanted with him for thirty pieces of silver (Matthew 26:15).

---
---
He was betrayed by a friend.
Prophecy: Yea, mine own familiar friend, in whom I trusted, Which did eat of my bread, Hath lifted up his heel against me (Psalm 41:9).
Fulfillment: Judas, one of the twelve ... betrayed him ... Whomsoever I shall kiss, that same is he: hold him fast. And forthwith he came to Jesus, and said, Hail, master; and kissed him. And Jesus said unto him, Friend, wherefore art thou come? Then came they, and laid hands on Jesus and took him (Matt 26:47-50).
---
The betrayal pieces of silver thrown in the temple and used for a potter's field.
Prophecy: And the Lord said unto me, Cast it unto the potter: a goodly price that I was prised at of them. And I took the thirty pieces of silver, and cast them to the potter in the house of the Lord (Zechariah 11:13).
Fulfillment: And he cast down the pieces of silver in the temple, and departed, and went and hanged himself. And the chief priests took the silver pieces ... and bought with them the potter's field, to bury strangers in (Matthew 27:5-7).
---
He was forsook by His disciples.
Prophecy: Awake, O sword, against my shepherd, and against the man that is my fellow, saith the Lord of hosts: smite the shepherd, and the sheep shall be scattered: and I will turn mine hand upon the little ones (Zechariah 13:7).
Fulfillment: Then all the disciples forsook him, and fled (Matthew 26:56).
---
He was silent before His accusers.
Prophecy: He was oppressed, and he was afflicted, yet he opened not his mouth: he is brought as a lamb to the slaughter, and as a sheep before her shearers is dumb, so he openeth not his mouth (Isaiah 53:7).
Fulfillment: And when he was accused of the chief priests and elders, he answered nothing. Then said Pilate unto him, Hearest thou not how many things they witness against thee? And he answered him to never a word; insomuch that the governor marvelled greatly (Matthew 27:12-13).
---
He was spit upon and beaten.
Prophecy: I gave my back to the smiters, and my cheeks to them that plucked off the hair: I hid not my face from shame and spitting (Isaiah 50:6).
Fulfillment: Then did they spit in his face, and buffeted him; and others smote him with the palms of their hands (Matthew 26:67).

---
---
He was whipped by his enemies.
Prophecy: ... and with his stripes we are healed (Isaiah 53:5).
Fulfillment: ... and when he had scourged Jesus, he delivered him to be crucified (Matthew 27:26).

---
He bore the curse of thorns.
Prophesy: ... cursed is the ground for thy sake; in sorrow shalt thou eat of it all the days of thy life; Thorns also and thistles shall it bring forth to thee; and thou shalt eat the herb of the field (Genesis 3:17-18).
Fulfillment: And when they had platted a crown of thorns, they put it upon his head, and a reed in his right hand: and they bowed the knee before him, and mocked him, saying, Hail, King of the Jews (Matthew 27:29).
---
His hands and feet were pierced.
Prophecy: ... the assembly of the wicked have inclosed me: they pierced my hands and my feet (Psalm 22:16).
Fulfillment: ... which is called Calvary, there they crucified him (Luke 23:33).

---
He was crucified with thieves.
Prophecy: ... and he was numbered with the transgressors; and he bare the sin of many, and made intercession for the transgressors (Isaiah 53:12).
Fulfillment: And with him they crucify two thieves; the one on his right hand, and the other on his left. And the scripture was fulfilled, which saith, And he was numbered with the transgressors (Mark 15:27-28).
---
---
He cries out to God, "why have you forsaken me?"
Prophecy: My God, my God, why hast thou forsaken me? why art thou so far from helping me, and from the words of my roaring (Psalm 22:1)?
Fulfillment: And about the ninth hour Jesus cried with a loud voice, saying, Eli, Eli, lama sabachthani? that is to say, My God, my God, why hast thou forsaken me (Matthew 27:46)?

---
They gave Him vinegar to drink.
Prophecy: They gave me also gall for my meat; and in my thirst they gave me vinegar to drink (Psalm 69:21).

Fulfillment: And straightway one of them ran, and took a spunge, and filled it with vinegar, and put it on a reed, and gave him to drink (Matthew 27:48).

---
His garments were divided, they cast lots for His clothes.
Prophecy: They part my garments among them, and cast lots upon my vesture (Psalm 22:18).
Fulfillment: They said therefore among themselves, Let us not rend it, but cast lots for it, whose it shall be: that the scripture might be fulfilled, which saith, They parted my raiment among them, and for my vesture they did cast lots. These things therefore the soldiers did (John 19:24).
---
His bones were not broken.
Prophecy: He keepeth all his bones: not one of them is broken (Psalms 34:20).
Fulfillment: But when they came to Jesus, and saw that he was dead already, they brake not his legs: For these things were done, that the scripture should be fulfilled, A bone of him shall not be broken (John 19: 33,36).
---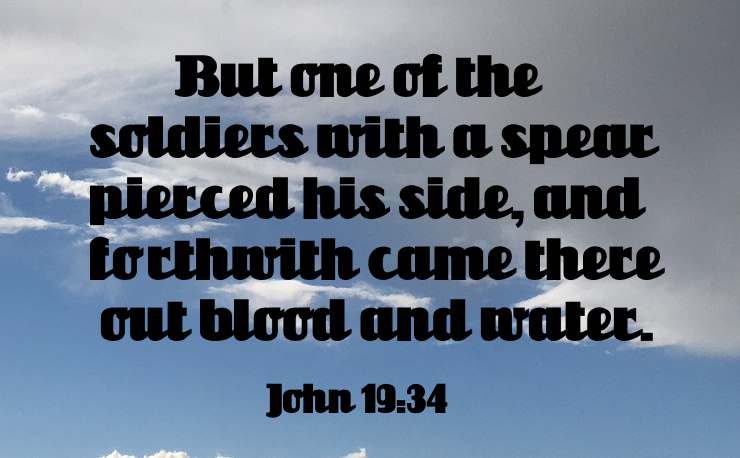 ---
He was pierced through His side.

Prophecy: ... and they shall look upon me whom they have pierced. (Zechariah 12:10).
Fulfillment: But one of the soldiers with a spear pierced his side, and forthwith came there out blood and water (John 19:34).
---
His friends stood afar off.
Prophecy: My lovers and my friends stand aloof from my sore; and my kinsmen stand afar off  (Psalm 38:11).
Fulfillment: And all his acquaintance, and the women that followed him from Galilee, stood afar off, beholding these things (Luke 23:49).
---
The Crucifixion of Jesus Christ in His Words
Jesus foretold His crucifixion to His disciples on a number of occasions. These scriptures are:
Matthew 16: 21-24

Matthew 17:22-23

Matthew 20:17-19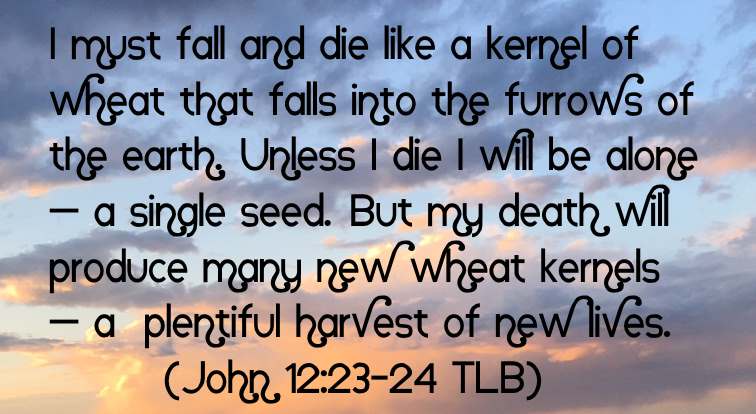 Why was Jesus Crucified?
The crucifixion of Jesus Christ fulfilled the Davidic Covenant (2 Samuel 7:12-18). The Apostle Paul, in a sermon (Acts 13:15-41) explains this fulfillment:
And when he had removed him, he raised up unto them David to be their king; to whom also he gave their testimony, and said, I have found David the son of Jesse, a man after mine own heart, which shall fulfil all my will. Of this man's seed hath God according to his promise raised unto Israel a Saviour, Jesus: (Acts 13:22-23) And when they had fulfilled all that was written of him, they took him down from the tree, and laid him in a sepulchre (Acts 13:29).

Yes, the crucifixion of Jesus Christ had to be fulfilled, but from the beginning of time, Jesus knew the real reason why He had to be crucified. He explained this to His disciples in the Gospel of John:
Jesus replied that the time had come for him to return to his glory in heaven, and that "Now the time has come for the Son of Man to enter into his glory. I tell you the truth, unless a kernel of wheat is planted in the soil and dies, it remains alone. But its death will produce many new kernels—a plentiful harvest of new lives (John 12:23-24 NLT).
In other words, the crucifixion of Jesus Christ will allow His seed - believers - to be born again. The Gospel of Jesus Christ is Jesus' death, burial and resurrection (1 Corinthians 15:1-4) and obedience to the gospel is found in Acts 2:38 - repentance, baptism in the name of Jesus Christ for the remission of sins and the receiving of the gift of the Holy Ghost.
As Jesus explained, without death, He could not be buried and rise again to new life. This is the same as a seed in nature, it must die, be buried and rise producing a new kernel. Likewise for a human soul, without repentance, that is, dying to self, one cannot have a new life, being born again, being born of water and Spirit (John 3:3-5)
From Crucifixion of Jesus Christ to Jesus Christ


From Crucifixion of Jesus Christ Jesus is God