Fruit of the Spirit
The fruit of the Spirit in our lives is produced after we have received the gift of the Holy Ghost (Holy Spirit). It is the kind of fruit that we desired to have but were unable to attain because of sin in our lives, instead of the Holy Spirit:
But the fruit of the Spirit is love, joy, peace, longsuffering, gentleness, goodness, faith, meekness, temperance: against such there is no law (Galatians 5:22-23).
I know my life has changed dramatically as this fruit has manifested itself in me. Did it happen overnight? No! It is analogous to planting a seedling of a fruit tree - it takes a number of years for the tree to produce fruit. I can guarantee you though that it happens if you love Jesus with all your heart, body, soul, and mind; lead a repentant lifestyle; have a daily prayer life; read the Bible daily; thank Him daily for what He has done for you, what He is doing for you and what He is going to do for you; praise and worship Him daily; don't put other things before Him, and attend church when the doors are open.
Don't worry about which fruit will be produced first. God knows what you need and He will provide accordingly.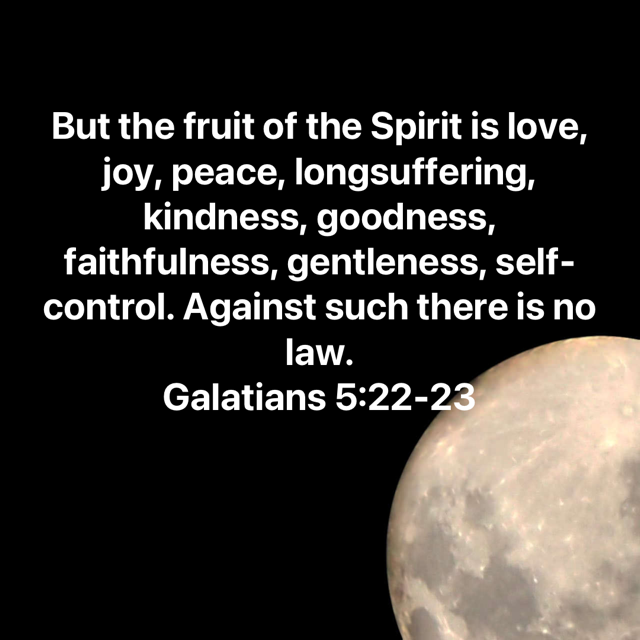 Love
Love as used in this verse, in the Greek is "agapē (ä-gä'-pā) G26, meaning affection, good will, love, benevolence, brotherly love". This is the same love that the Apostle Paul used in 1 Corinthians 13:
Love is patient and kind. Love is not jealous or boastful or proud or rude. It does not demand its own way. It is not irritable, and it keeps no record of being wronged. It does not rejoice about injustice but rejoices whenever the truth wins out. Love never gives up, never loses faith, is always hopeful, and endures through every circumstance (1 Corinthians 13:4-7 NLT).
It is also the same love that the Apostle John used in the precious God is love verse:
But anyone who does not love does not know God, for God is love (1 John 4:18 NLT).
And finally Paul says without love for others, we will have gained nothing:
If I gave everything I have to the poor and even sacrificed my body, I could boast about it; but if I didn't love others, I would have gained nothing (1 Corinthians 13:13 NLT).

Joy
Joy as a fruit of the Spirit is not happiness. Happiness is from the same root word as happenstance and perhaps. Being happy is mostly by chance, by fortune. On the other hand the joy that the Holy Spirit brings us is from God:
Yet I will rejoice in the LORD, I will joy in the God of my salvation (Habakkuk 3:18).
The young women will dance for joy, and the men—old and young—will join in the celebration. I will turn their mourning into joy. I will comfort them and exchange their sorrow for rejoicing (Jeremiah 31:13 NLT).

For the kingdom of God is not meat and drink; but righteousness, and peace, and joy in the Holy Ghost (Romans 14:17).
When they saw the star, they rejoiced with exceeding great joy (Matthew 2:10).

We can be very unhappy with life's circumstances, or suffer some kind of affliction, but still have the joy of the Lord:

And ye became followers of us, and of the Lord, having received the word in much affliction, with joy of the Holy Ghost (1 Thessalonians 1:6).
Then he said unto them, Go your way, eat the fat, and drink the sweet, and send portions unto them for whom nothing is prepared: for this day is holy unto our Lord: neither be ye sorry; for the joy of the LORD is your strength (Nehemiah 8:10).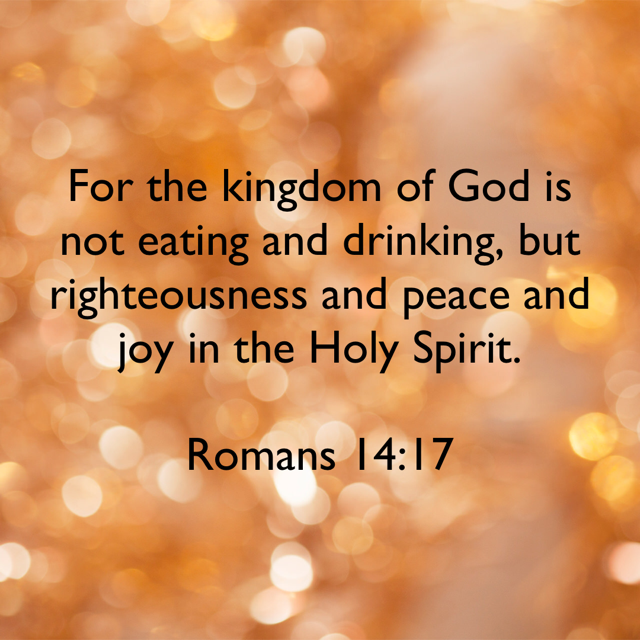 Peace
Isaiah told us that Jesus is the Prince of Peace:
For unto us a child is born, unto us a son is given: and the government shall be upon his shoulder: and his name shall be called Wonderful, Counsellor, The mighty God, The everlasting Father, The Prince of Peace (Isaiah 9:6).
When we are filled with the Holy Ghost, the Prince of Peace takes residence in us. When we stop letting our sinful nature rule our lives, and let Him rule instead, His peace takes over:
So letting your sinful nature control your mind leads to death. But letting the Spirit control your mind leads to life and peace (Romans 8:6 NLT).
And let the peace that comes from Christ rule in your hearts. For as members of one body you are called to live in peace. And always be thankful (Colossians 3:15 NLT).

We see, in time, that the peace Jesus provides us exceeds our understanding of peace:
And the peace of God, which surpasses all understanding, will guard your hearts and minds through Christ Jesus (Philippians 4:7 NKJV).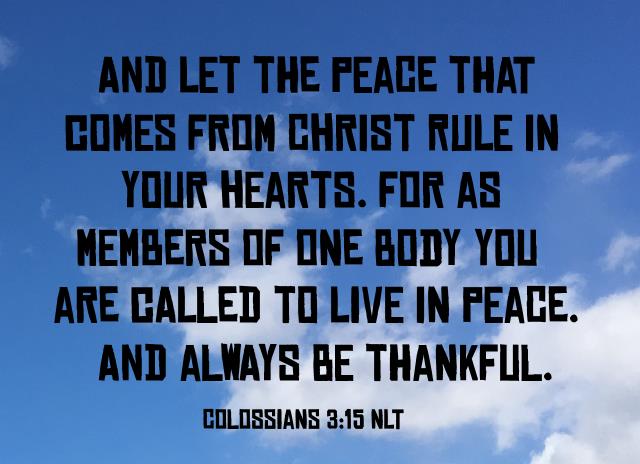 Longsuffering (Patience)
The fruit of the Spirit "longsuffering", as used in Galatians 5:22, in the Greek, means: "patience, forbearance, long-suffering, slowness in avenging wrongs". For me, possessing patience took on a whole new meaning when I added "forbearance" and "slowness in avenging wrong" to the meaning. But Christ in me, the Holy Spirit, has changed me over the years to be more forbearing and not wanting to requite wrongs done to me.
God has been longsuffering with mankind since the Genesis flood:
Which sometime were disobedient, when once the longsuffering of God waited in the days of Noah, while the ark was a preparing, wherein few, that is, eight souls were saved by water (1 Peter 3:20 ).
When this same God, Jesus Christ, rules in our lives, which is His will being done, we will become longsuffering as we become like Him.
Howbeit for this cause I obtained mercy, that in me first Jesus Christ might shew forth all longsuffering, for a pattern to them which should hereafter believe on him to life everlasting (1 Timothy 1:16).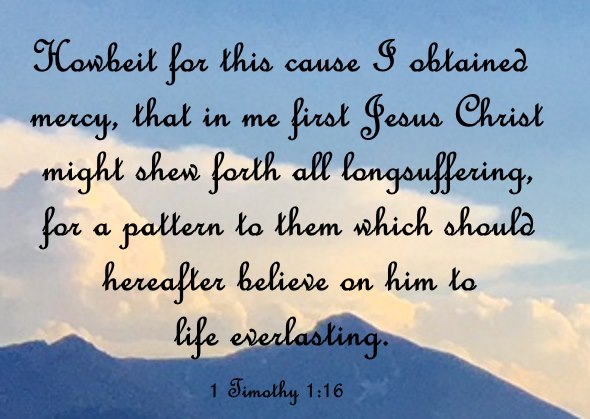 Gentleness (Kindness)
Gentleness, as used as a fruit of the Spirit, in the Greek, is the word chrēstotēs (khrā-sto'-tās) G5544, meaning kindness. Since God chose us as the people He loves, we must "put on" kindness:
Put on then, as God's chosen ones, holy and beloved, compassionate hearts, kindness, humility, meekness, and patience (Colossians 3:12 ESV).
Through the new birth and new life of having the Holy Spirit in us, this fruit of the Spirit, kindness, will grow in us and will be displayed for the world to see. Thank God!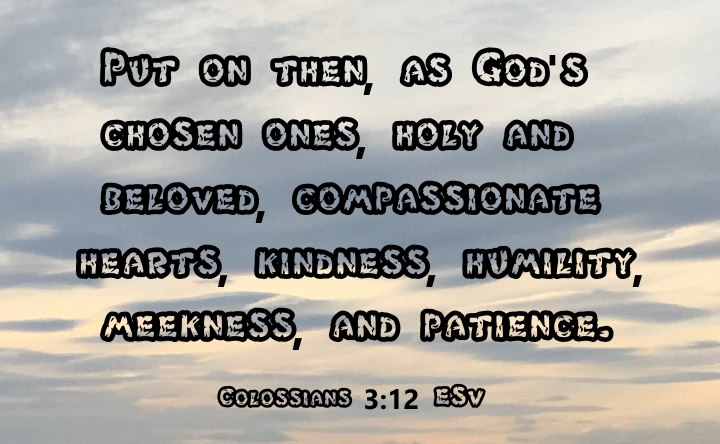 Goodness
Goodness, as used in Galatians 5:22, in the Greek is agathōsynē (ä-gä-thō-sü'-nā) G19, means uprightness of heart and life, goodness and kindness. Being full of goodness and knowledge of God, the Apostle Paul tells us we will be able to instruct one another. It may not happen overnight, but rest assured it will happen:
I myself am satisfied about you, my brothers, that you yourselves are full of goodness, filled with all knowledge and able to instruct one another (Romans 15:14 ESV).

Faith
I believe that faith in God is a key fruit of the Spirit. If we stand in faith in Jesus Christ, that He is on the throne and in full control of our lives, why would we:
be impatient?
lose self-control?
not love our neighbors?
not be kind to others?
not have peace in our lives?
not have the joy of the Lord present in our lives?
let pride takeover our lives?
turn to the world when we are troubled?
Personally, when this happens to us, I think the answer is that our faith in God is running low. This happened to Jesus' disciples even though they were with Him daily:
And the apostles said unto the Lord, Increase our faith (Luke 17:5).
The Apostle Peter said that starting with faith you can add self-control (temperance), patience, kindness and love (charity), among other qualities like virtue, knowledge and godliness (2 Peter 1:5-7).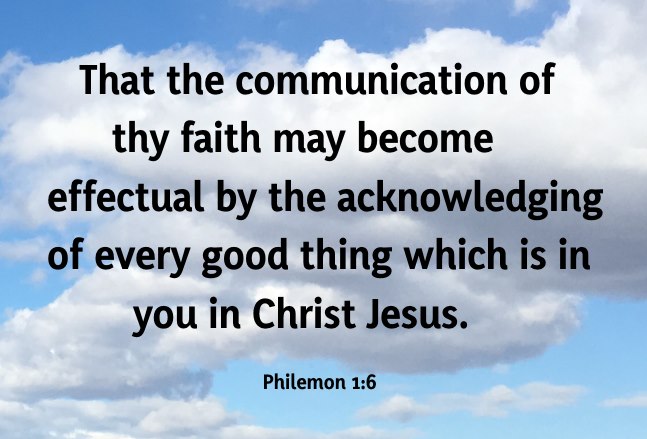 Jesus said that having faith will make you whole, giving you peace:
And he said unto her, Daughter, thy faith hath made thee whole; go in peace, and be whole of thy plague (Mark 5:34).
Just having faith will bring us joy:
And having this confidence, I know that I shall abide and continue with you all for your furtherance and joy of faith (Philippians 1:25).
The Lord gives us access to His grace through faith and gives grace to the humble:
By whom also we have access by faith into this grace wherein we stand, and rejoice in hope of the glory of God (Romans 5:2).

But He gives more grace. Therefore He says: "God resists the proud, But gives grace to the humble (James 4:6).
The Apostle Paul summarizes this entire conversation in this verse:
That the communication of thy faith may become effectual by the acknowledging of every good thing which is in you in Christ Jesus (Philemon 1:6 ).
Meekness
Meekness, as used in the fruit of the Spirit, in the Greek, is praiótēs (prah-ot'-ace) G4236; gentleness, by implication, humility.  After we set aside evil in our lives, it will be meekness that will allow Jesus to plant His word in our hearts, which will be able to save our souls:
Therefore lay aside all filthiness and overflow of wickedness, and receive with meekness the implanted word, which is able to save your souls (James 1:21 NKJV).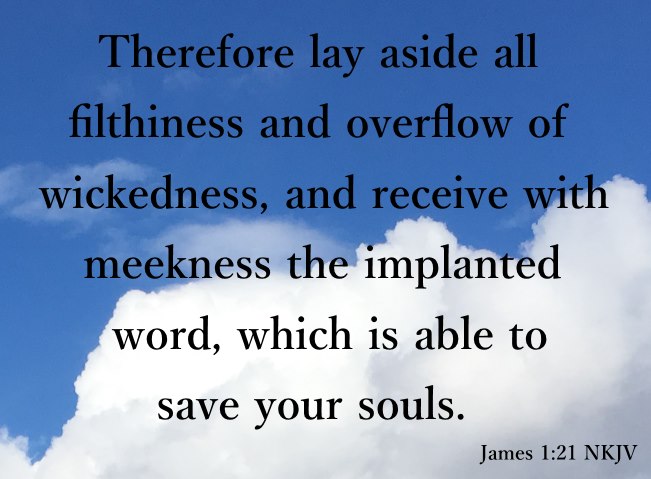 Temperance (Self-Control)
Temperance, in the Greek, is enkráteia (eng-krat'-i-ah) G1468; self-control (especially continence):—temperance. Lack of self-control can readily lead us down a path of sin through our actions, by both our tongues and our bodies. God has always purposed us to have control over these actions. Without this self-control, non-Christians will always be able to say "he/she doesn't act any differently than me so why should I be saved".
The Apostle Paul must have believed that self-control was important. When he was reasoning the weighty matters of righteousness and judgement with Governor Felix, he also reasoned temperance:
And as he reasoned of righteousness, temperance, and judgment to come, Felix trembled, and answered, Go thy way for this time; when I have a convenient season, I will call for thee (Acts 24:25).
From Fruit of the Spirit to God's Love


From Fruit of the Spirit to Jesus Christ