The Deity of Jesus Christ
The deity of Jesus Christ is readily seen without any difficulty in the 100 plus Bible verses below:

God Revealing Himself as Jesus Christ
God, who at sundry times and in divers manners spake in time past unto the fathers by the prophets, Hath in these last days spoken unto us by his Son, whom he hath appointed heir of all things, by whom also he made the worlds; Who being the brightness of his glory, and the express image of his person, and upholding all things by the word of his power, when he had by himself purged our sins, sat down on the right hand of the Majesty on high (Hebrews 1:1,2,3)
For unto us a child is born, unto us a son is given: and the government shall be upon his shoulder: and his name shall be called Wonderful, Counsellor, The mighty God, The everlasting Father, The Prince of Peace (Isaiah 9:6).
Behold, a virgin shall be with child, and shall bring forth a son, and they shall call his name Emmanuel, which being interpreted is, God with us (Matthew 1:23).

But thou, Bethlehem Ephratah, though thou be little among the thousands of Judah, yet out of thee shall he come forth unto me that is to be ruler in Israel; whose goings forth have been from of old, from everlasting (Micah 5:2).
Take heed therefore unto yourselves, and to all the flock, over the which the Holy Ghost hath made you overseers, to feed the church of God, which he hath purchased with his own blood (Acts 20:28).

And without controversy great is the mystery of godliness: God was manifest in the flesh, justified in the Spirit, seen of angels, preached unto the Gentiles, believed on in the world, received up into glory (1 Timothy 3:16).

In the beginning was the Word, and the Word was with God, and the Word was God. The same was in the beginning with God. All things were made by him; and without him was not any thing made that was made (John 1:1-3).
He was in the world, and the world was made by him, and the world knew him not (John 1:10).
And the Word was made flesh, and dwelt among us, (and we beheld his glory, the glory as of the only begotten of the Father,) full of grace and truth (John 1:14).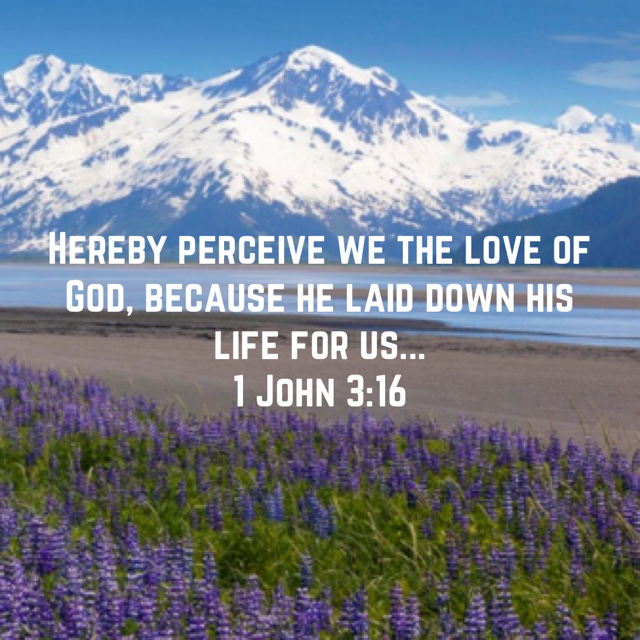 Jesus cried and said, He that believeth on me, believeth not on me, but on him that sent me. And he that seeth me seeth him that sent me (John 12:44-45).
All things are delivered unto me of my Father: and no man knoweth the Son, but the Father; neither knoweth any man the Father, save the Son, and he to whomsoever the Son will reveal him (Matthew 11:27).

Beware lest any man spoil you through philosophy and vain deceit, after the tradition of men, after the rudiments of the world, and not after Christ. For in him dwelleth all the fulness of the Godhead bodily. And ye are complete in him, which is the head of all principality and power (Colossians 2:8,9,10).
For God so loved the world, that he gave his only begotten Son, that whosoever believeth in him should not perish, but have everlasting life (John 3:16).

Hereby perceive we the love of God, because he laid down his life for us: and we ought to lay down our lives for the brethren (1 John 3:16).

Abraham, Isaac, and Jacob are their ancestors, and Christ himself was an Israelite as far as his human nature is concerned. And he is God, the one who rules over everything and is worthy of eternal praise! Amen (Romans 9:5 NLT).
To the only wise God our Saviour, be glory and majesty, dominion and power, both now and ever. Amen (Jude 25).

For there is one God, and one mediator between God and men, the man Christ Jesus (1 Timothy 2:5).
For we are God's handiwork, created in Christ Jesus to do good works, which God prepared in advance for us to do (Ephesians 2:10 NIV).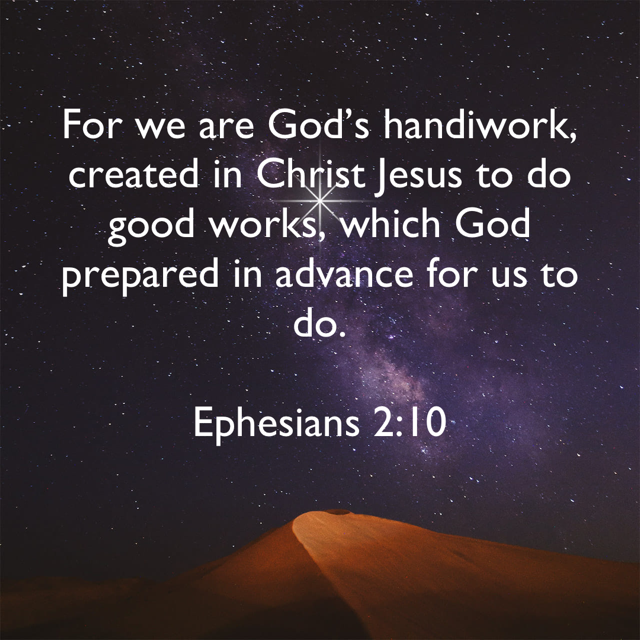 Who hath saved us, and called us with an holy calling, not according to our works, but according to his own purpose and grace, which was given us in Christ Jesus before the world began, But is now made manifest by the appearing of our Saviour Jesus Christ, who hath abolished death, and hath brought life and immortality to light through the gospel (2 Timothy 1:9,10).
But of the Son he says, Your throne, O God, is forever and ever, the scepter of uprightness is the scepter of your kingdom (Hebrews 1:8 ESV).
The Father Declared in Jesus Christ
No man hath seen God at any time, the only begotten Son, which is in the bosom of the Father, he hath declared him (John 1:18).

If ye had known me, ye should have known my Father also: and from henceforth ye know him, and have seen him. Philip saith unto him, Lord, show us the Father, and it sufficeth us. Jesus saith unto him, Have I been so long time with you, and yet hast thou not known me, Philip? he that hath seen me hath seen the Father; and how sayest thou then, Show us the Father? Believest thou not that I am in the Father, and the Father in me? the words that I speak unto you I speak not of myself: but the Father that dwelleth in me, he doeth the works (John 14:7,8,9,10).
All things are delivered unto me of my Father: and no man knoweth the Son, but the Father; neither knoweth any man the Father, save the Son, and he to whomsoever the Son will reveal him (Matthew 11:27).

Then said they unto him, Where is thy Father? Jesus answered, Ye neither know me, nor my Father: if ye had known me, ye should have known my Father also (John 8:19).
I and my Father are one (John 10:30).
That they all may be one; as thou, Father, art in me, and I in thee, that they also may be one in us: that the world may believe that thou hast sent me (John 17:21).
Then said they unto him, Who art thou? And Jesus saith unto them, Even the same that I said unto you from the beginning. I have many things to say and to judge of you: but he that sent me is true; and I speak to the world those things which I have heard of him. They understood not that he spake to them of the Father (John 8:25,26,27).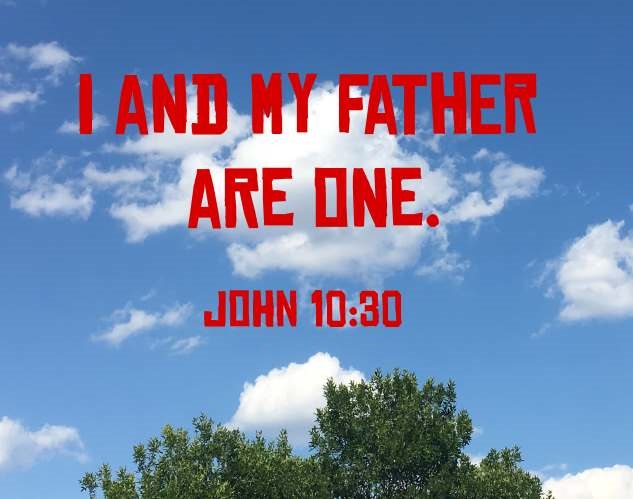 The "I am" Revealed

Ye are my witnesses, saith the Lord, and my servant whom I have chosen: that ye may know and believe me, and understand that I am he: before me there was no God formed, neither shall there be after me (Isaiah 43:10).
Now I tell you before it come, that, when it is come to pass, ye may believe that I am he (John 13:19).
And he said unto them, Ye are from beneath; I am from above: ye are of this world; I am not of this world. I said therefore unto you, that ye shall die in your sins: for if ye believe not that I am he, ye shall die in your sins (John 8:23,24).

I am the God of Abraham, and the God of Isaac, and the God of Jacob? God is not the God of the dead, but of the living (Matthew 22:32).
Then said the Jews unto him, Thou art not yet fifty years old, and hast thou seen Abraham? Jesus said unto them, Verily, verily, I say unto you, Before Abraham was, I am (John 8:57,58).

And Jesus said, I am: and ye shall see the Son of man sitting on the right hand of power, and coming in the clouds of heaven (Mark 14:62)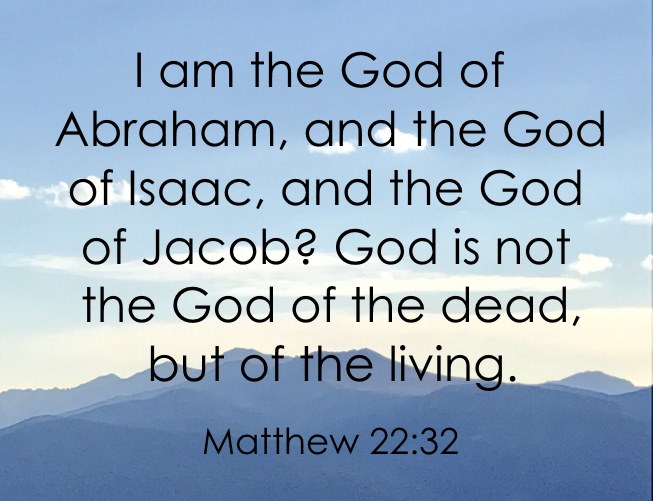 Hear, O Israel: The Lord our God is one Lord (Deuteronomy 6:4).
And Jesus answered him, The first of all the commandments is, Hear, O Israel; The Lord our God is one Lord (Mark 12:29).
But to us there is but one God the Father, of whom are all things, and we in him; and one Lord Jesus Christ, by whom are all things, and we by him (1 Corinthians 8:6).
Savior
I, even I, am the Lord; and beside me there is no saviour (Isaiah 43:11).
Tell ye, and bring them near; yea, let them take counsel together: who hath declared this from ancient time? who hath told it from that time? have not I the Lord? and there is no God else beside me; a just God and a Saviour; there is none beside me. Look unto me, and be ye saved, all the ends of the earth: for I am God, and there is none else (Isaiah 45:21,22).

For unto you is born this day in the city of David a Saviour, which is Christ the Lord (Luke 2:11)

Behold, God is my salvation; I will trust, and not be afraid: for the Lord Jehovah is my strength and my song; he also is become my salvation (Isaiah 12:2).

And she shall bring forth a son, and thou shalt call his name Jesus: for he shall save his people from their sins (Matthew 1:20).
Neither is there salvation in any other: for there is none other name under heaven given among men, whereby we must be saved (Acts 4:12).
For therefore we both labour and suffer reproach, because we trust in the living God, who is the Saviour of all men, specially of those that believe (1 Timothy 4:10).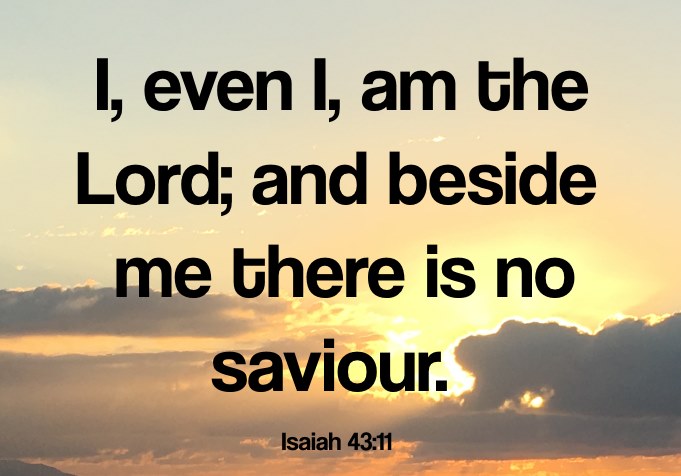 All the Glory
I am the Lord: that is my name: and my glory will I not give to another, neither my praise to graven images (Isaiah 42:8).
All honor and glory to God forever and ever! He is the eternal King, the unseen one who never dies; he alone is God. Amen (1 Timothy 1:11 NLT).

Make you perfect in every good work to do his will, working in you that which is well pleasing in his sight, through Jesus Christ; to whom be glory for ever and ever. Amen (Hebrews 13:21)

Every Knee Bow, Every Tongue Confess
I have sworn by myself, the word is gone out of my mouth in righteousness, and shall not return, That unto me every knee shall bow, every tongue shall swear. Surely, shall one say, in the Lord have I righteousness and strength: even to him shall men come; and all that are incensed against him shall be ashamed. In the Lord shall all the seed of Israel be justified, and shall glory (Isaiah 45:23,24,25).
That at the name of Jesus every knee should bow, of things in heaven, and things in earth, and things under the earth; And that every tongue should confess that Jesus Christ is Lord, to the glory of God the Father (Philippians 2:10,11).
Make Straight the Way of the Lord
The voice of him that crieth in the wilderness, Prepare ye the way of the Lord, make straight in the desert a highway for our God (Isaiah 40:3).
....... Then said they unto him, Who art thou? that we may give an answer to them that sent us. What sayest thou of thyself? He said, I am the voice of one crying in the wilderness, Make straight the way of the Lord, as said the prophet Esaias (John 1:22,23).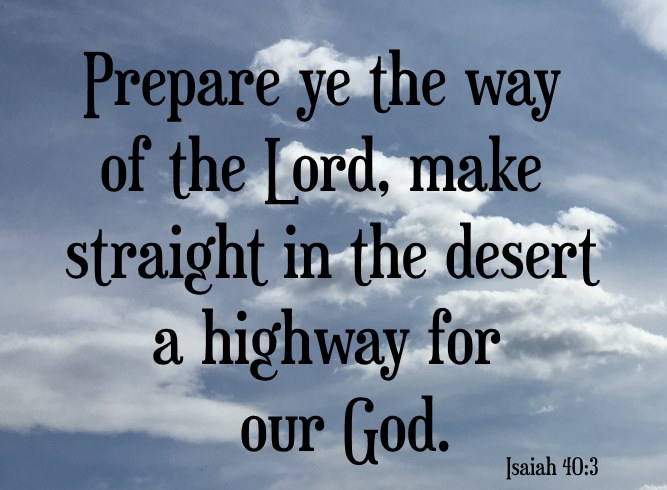 His Name
For thy Maker is thine husband; the LORD of hosts is his name; and thy Redeemer the Holy One of Israel; The God of the whole earth shall he be called (Isaiah 54:5)
Thou shewest lovingkindness unto thousands, and recompensest the iniquity of the fathers into the bosom of their children after them: the Great, the Mighty God, the LORD of hosts, is his name (Jeremiah 32:18).
For, lo, he that formeth the mountains, and createth the wind, and declareth unto man what is his thought, that maketh the morning darkness, and treadeth upon the high places of the earth, The LORD, The God of hosts, is his name (Amos 4:13).
And Jesus came and spake unto them, saying, All power is given unto me in heaven and in earth. Go ye therefore, and teach all nations, baptizing them in the name of the Father, and of the Son, and of the Holy Ghost (Matthew 28:18,19).
And said unto them, Thus it is written, and thus it behooved Christ to suffer, and to rise from the dead the third day: And that repentance and remission of sins should be preached in his name among all nations, beginning at Jerusalem (Luke 24:46-47).
And he said unto them, Go ye into all the world, and preach the gospel to every creature. He that believeth and is baptized shall be saved; but he that believeth not shall be damned. And these signs shall follow them that believe; In my name shall they cast out devils; they shall speak with new tongues (Mark 16:15-17)
Then Peter said unto them, Repent, and be baptized every one of you in the name of Jesus Christ for the remission of sins, and ye shall receive the gift of the Holy Ghost (Acts 2:38).
Wherefore God also hath highly exalted him, and given him a name which is above every name: That at the name of Jesus every knee should bow, of things in heaven, and things in earth, and things under the earth (Philippians 2:9,10).
And whatsoever ye do in word or deed, do all in the name of the Lord Jesus, giving thanks to God and the Father by him (Colossians 3:17).

But when they believed Philip preaching the things concerning the kingdom of God, and the name of Jesus Christ, they were baptized, both men and women (Acts 8:12).

And he commanded them to be baptized in the name of the Lord. Then prayed they him to tarry certain days (Acts 10:48).
When they heard this, they were baptized in the name of the Lord Jesus (Acts 19:5).
And he was clothed with a vesture dipped in blood: and his name is called The Word of God (Revelation 9:13).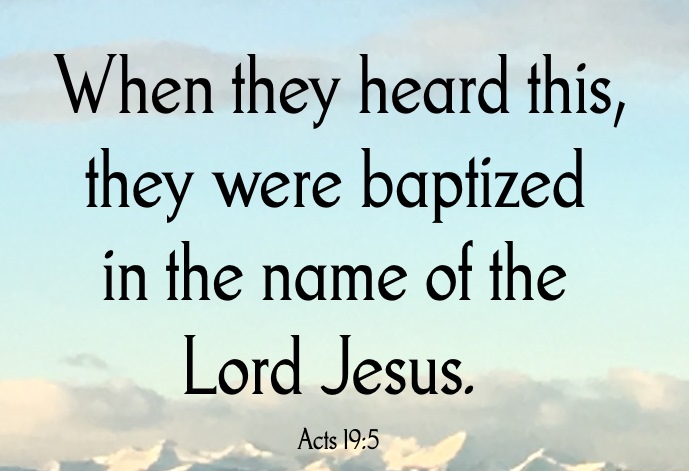 Reconciliation
To wit, that God was in Christ, reconciling the world unto himself, not imputing their trespasses unto them; and hath committed unto us the word of reconciliation. Now then we are ambassadors for Christ, as though God did beseech you by us: we pray you in Christ's stead, be ye reconciled to God. For he hath made him to be sin for us, who knew no sin; that we might be made the righteousness of God in him (2 Corinthians 5:19,20,21).
Eternal Life through the True God
And we know that the Son of God is come, and hath given us an understanding, that we may know him that is true, and we are in him that is true, even in his Son Jesus Christ. This is the true God, and eternal life (1 John 5:20).

From the Beginning
And all that dwell upon the earth shall worship him, whose names are not written in the book of life of the lamb slain from the foundation of the world (Revelation 13:8).
The Gospel of Jesus Christ (God)
The beginning of the gospel of Jesus Christ, the Son of God (Mark 1:1).

That I should be the minister of Jesus Christ to the Gentiles, ministering the gospel of God, that the offering up of the Gentiles might be acceptable, being sanctified by the Holy Ghost (Romans 15:16).

Through mighty signs and wonders, by the power of the Spirit of God; so that from Jerusalem, and round about unto Illyricum, I have fully preached the gospel of Christ (Romans 15:19).
But even after that we had suffered before, and were shamefully entreated, as ye know, at Philippi, we were bold in our God to speak unto you the gospel of God with much contention (1 Thessalonians 1:2).
In accordance with the gospel of the glory of the blessed God with which I have been entrusted (1 Timothy 1:11 ESV).
For the time is come that judgment must begin at the house of God: and if it first begin at us, what shall the end be of them that obey not the gospel of God (1 Peter 4:17)?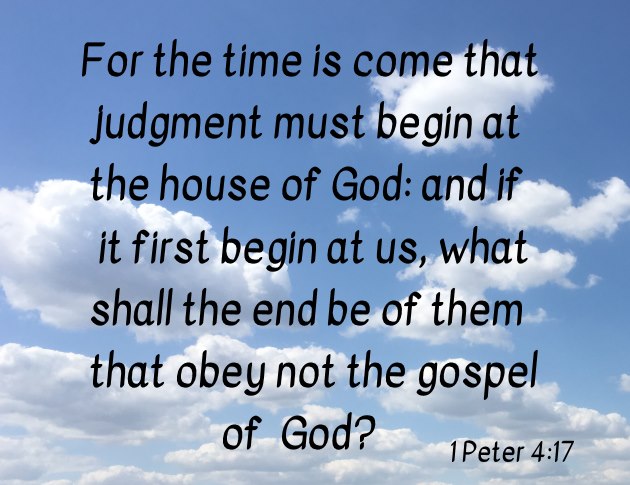 The First and the Last - The Alpha and Omega
Thus saith the Lord the King of Israel, and his redeemer the Lord of hosts; I am the first, and I am the last; and beside me there is no God (Isaiah 44:6).
I am Alpha and Omega, the beginning and the ending, saith the Lord, which is, and which was, and which is to come, the Almighty (Revelation 1:8).
I am Alpha and Omega, the beginning and the end, the first and the last (Revelation 22:13).
And when I saw him, I fell at his feet as dead. And he laid his right hand upon me, saying unto me, Fear not; I am the first and the last: I am he that liveth, and was dead; and, behold, I am alive for evermore, Amen; and have the keys of hell and of death (Revelation 1:17,18).
God in Us
But ye are not in the flesh, but in the Spirit, if so be that the Spirit of God dwell in you. Now if any man have not the Spirit of Christ, he is none of his (Romans 8:9).

And what agreement hath the temple of God with idols? for ye are the temple of the living God; as God hath said, I will dwell in them, and walk in them; and I will be their God, and they shall be my people (2 Corinthians 6:16).
Examine yourselves, whether ye be in the faith; prove your own selves. Know ye not your own selves, how that Jesus Christ is in you, except ye be reprobates (2 Corinthians 15:5)?
In whom ye also are builded together for an habitation of God through the Spirit (Eph 2:22).
For it is God which worketh in you both to will and to do of his good pleasure (Philippians 2:13).

To whom God would make known what is the riches of the glory of this mystery among the Gentiles; which is Christ in you, the hope of glory (Colossians 1:27).
No man hath seen God at any time. If we love one another, God dwelleth in us, and his love is perfected in us (1 John 4:12).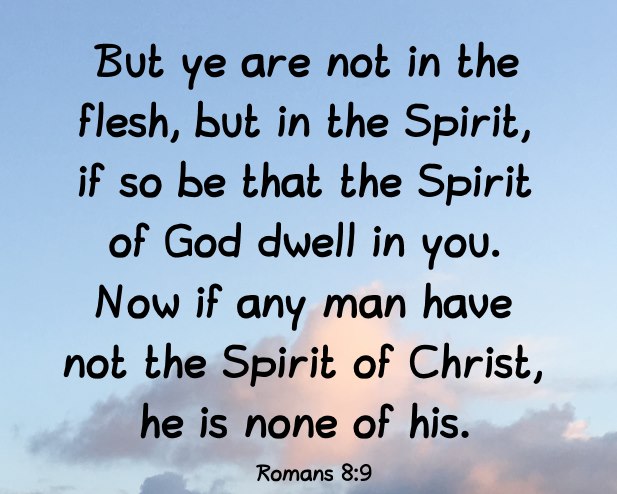 God is One
Or is God the God of Jews only? Is he not the God of Gentiles also? Yes, of Gentiles also, since God is one—who will justify the circumcised by faith and the uncircumcised through faith (Romans 3:29 ESV).

Now an intermediary implies more than one, but God is one (Galatians 3:20 ESV).
You believe that God is one; you do well. Even the demons believe—and shudder (James 3:20 ESV).
King of Kings, Lord of Lords
To keep this command without spot or blame until the appearing of our Lord Jesus Christ, which God will bring about in his own time—God, the blessed and only Ruler, the King of kings and Lord of lords, who alone is immortal and who lives in unapproachable light, whom no one has seen or can see. To him be honor and might forever. Amen. (1 Timothy 6:14-16 NIV).
These shall make war with the Lamb, and the Lamb shall overcome them: for he is Lord of lords, and King of kings: and they that are with him are called, and chosen, and faithful (Revelation 17:14).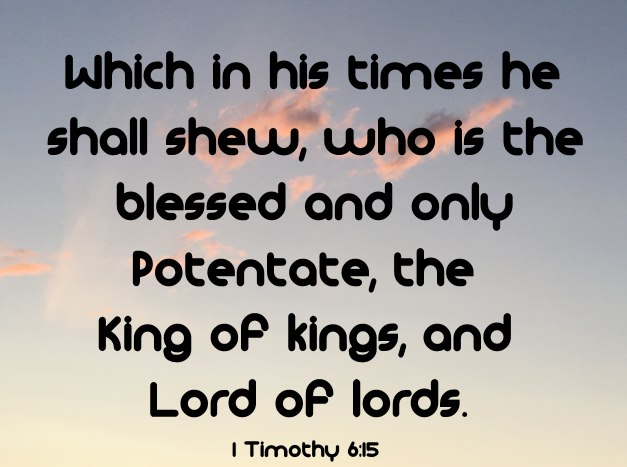 Worship God Only
O worship the Lord in the beauty of holiness: fear before him, all the earth (Psalm 96:9).
Thou shalt fear the Lord thy God, and serve (worship) him, and shalt swear by his name (Deuteronomy 6:13).

And Jesus answered and said unto him, Get thee behind me, Satan: for it is written, Thou shalt worship the Lord thy God, and him only shalt thou serve (Luke 4:8).
Now when Jesus was born in Bethlehem of Judaea in the days of Herod the king, behold, there came wise men from the east to Jerusalem, Saying, Where is he that is born King of the Jews? for we have seen his star in the east, and are come to worship him (Matthew 2:1,2).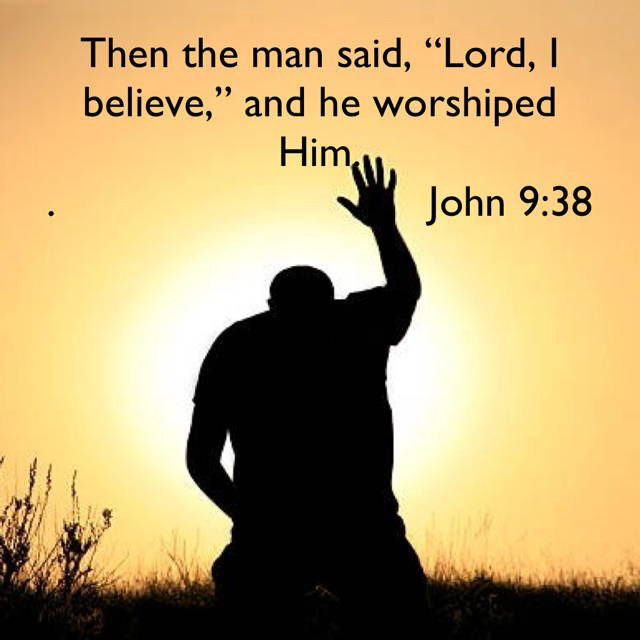 And, behold, there came a leper and worshipped him, saying, Lord, if thou wilt, thou canst make me clean (Matthew 8:2).

Then they that were in the ship came and worshipped him, saying, Of a truth thou art the Son of God (Matthew 14:33).
And he said, Lord, I believe. And he worshipped him (John 9:38).

And I fell at his feet to worship him. And he said unto me, See thou do it not: I am thy fellowservant, and of thy brethren that have the testimony of Jesus: worship God: for the testimony of Jesus is the spirit of prophecy (Revelation 19:10).
Root and Offspring of David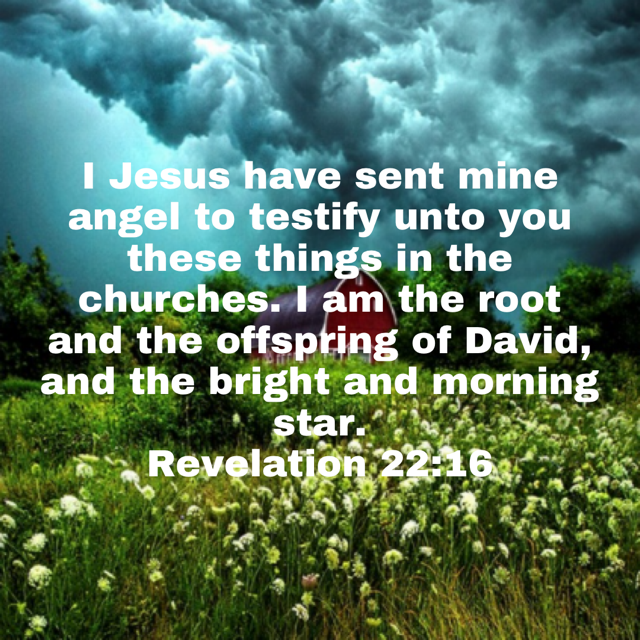 Saying, What think ye of Christ? whose son is he? They say unto him, The son of David. He saith unto them, How then doth David in spirit call him Lord, saying, The Lord said unto my Lord, Sit thou on my right hand, till I make thine enemies thy footstool? If David then call him Lord, how is he his son (Matthew 22:42-43,44-45)?
I Jesus have sent mine angel to testify unto you these things in the churches. I am the root and the offspring of David, and the bright and morning star (Revelation 22:16).
From The Deity of Jesus Christ to One God


From The Deity of Jesus Christ to Jesus is God