Truth Church - Calgary, is the church that I, Terry Bourbonnie, attend. My Pastor is Douglas Walker. The address and  phone number of Truth Church is:

615 Northmount Drive NW
Calgary, AB T2K 3J6
403-282-0238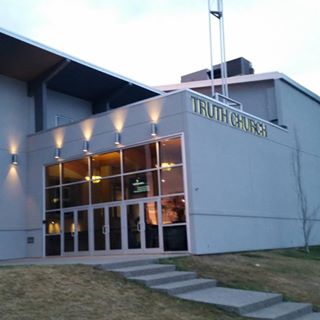 About Truth Church
(Following text is from Truth Church Website)
Truth Church is a thriving multi-cultural congregation. It is the vision of Truth Church to have members from every nation of the world in the local assembly. In addition to our location in Calgary, we also have church plants in various countries around the world.
When you join us, you join a long and rich heritage going back to the foundational doctrines laid by the apostles in the book of Acts. If you are looking for a church that preaches truth, look no further than Truth Church.
At Truth Church, every service is different. Sunday morning, Sunday evening, and Wednesday evening each focus on a different aspect of our growth in God. Whether it be encouragement, outreach, or a deep dive into the scriptures, you won't want to miss a single service.
Truth Church Live Streaming (Sundays 10:30 am & 6:30 pm and on Wednesday 7:30 pm - all   times Mountain) - click here
Truth Church Sermon Podcasts - click here
Truth Church Spanish Ministry - click here
Truth Talk Podcasts - click here

Truth Church Next Level Program - click here