Worship
We often confuse praise and worship in church and in our daily lives. Praise in Hebrew is yadah, yä·dä' (Key) H3034. If you read the Hebrew-Chaldee Lexicon meaning as well as Strong's meaning, you will see the full perspective of the meaning of praise - it is about giving thanks, praising, and celebrating with extended hands, which is impossible to do without your mouth and your tongue being involved. If you go to Praise, you will see the many forms of praise that are used in the Bible.
Worshipping God goes much deeper than praise. In Hebrew, the word is shachah, shä·khä' (Key) H7812. Again if you read the Hebrew-Chaldee Lexicon meaning as well as Strong's meaning, worship means to bow down, to depress (metaphorically in one's heart), to prostrate oneself before God in worship, to pay homage and submit oneself to God.
In the Greek, I think you even get a clearer picture: proskynéō, pros-koo-neh'-o G4352; from G4314 and a probable derivative of G2965 (meaning to kiss, like a dog licking his master's hand); to fawn or crouch to, i.e. (literally or figuratively) prostrate oneself in homage (do reverence to, adore). That is really powerful! Do we worship Jesus like a dog worship's his master? Jesus is our Master after all.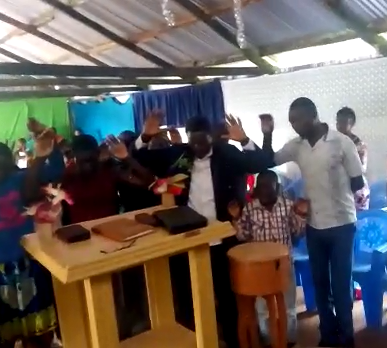 Worship does not have to be verbal like praise does. People, as well as God can observe where your heart, mind and soul are positioned. Can you be a true worshipper if you don't:
Bow down to God, the Lord Jesus Christ?
Love God with all your heart, soul and mind and love your neighbour as you love yourself?
Believe in God?
Be obedient to God and His Word?
Have faith in God?
Submit to God?
Submit to your pastor?
Pay a price so that it costs you something?
pOne of the best examples of a true worshiper is Abraham. In scripture, we see that God decides to test Abraham's faith by seeing if Abraham would be willing to sacrifice his son Isaac as a burnt offering:
After these things God tested Abraham and said to him, "Abraham!" And he said, "Here I am." He said, "Take your son, your only son Isaac, whom you love, and go to the land of Moriah, and offer him there as a burnt offering on one of the mountains of which I shall tell you (Genesis 22:1-2 ESV).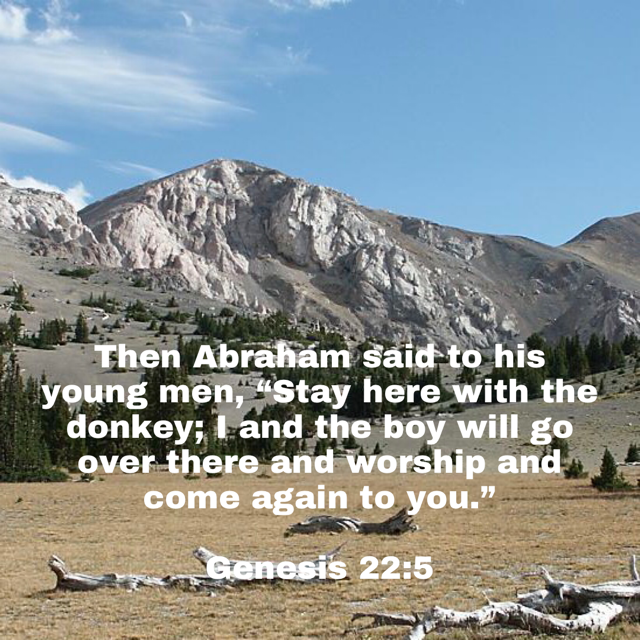 Abraham believes God, is obedient, and submits to God (Genesis 22:3-4) It will also cost him dearly - his son Isaac. What did Abraham consider this cost to be? Of course, worship:

Then Abraham said to his young men, "Stay here with the donkey; I and the boy will go over there and worship and come again to you." (Genesis 22:5 ESV).
They went up Mt. Moriah (in Jerusalem) with the wood and knife needed for the offering. Isaac asked Abraham where the lamb is for the offering and Abraham has the faith to say that God will provide it himself:
And Abraham said, My son, God will provide himself a lamb for a burnt offering: so they went both of them together (Genesis 22:8).
This scripture is also one of the prophecies from the book of Genesis that was fulfilled in the New Testament.

None of this happens without Isaac's faith, obedience and submission either, as he was an adult, and Abraham was about 100 years old. The test ended when the angel of the Lord said:
Do not lay your hand on the boy or do anything to him, for now I know that you fear God, seeing you have not withheld your son, your only son, from me (Genesis 22:12 ESV).

At that moment God  provided a lamb for the sacrifice and Abraham called the place Jehovah Jireh as the Lord had seen Abraham's faith in action:
And Abraham lifted up his eyes, and looked, and behold behind him a ram caught in a thicket by his horns: and Abraham went and took the ram, and offered him up for a burnt offering in the stead of his son. And Abraham called the name of that place Jehovahjireh: as it is said to this day, In the mount of the Lord it shall be seen (Genesis 22:13-14).
This wasn't the first time that Abraham obeyed God. The author of Hebrews describes Abraham this way when he first demonstrated his obedience and faith in God:
It was by faith that Abraham obeyed when God called him to leave home and go to another land that God would give him as his inheritance. He went without knowing where he was going. And even when he reached the land God promised him, he lived there by faith—for he was like a foreigner, living in tents. And so did Isaac and Jacob, who inherited the same promise (Hebrews 11:8-9 NLT).

pHe was in total submission to God. Abraham was also submitted to the man of God in his life, paying tithes to Melchizedek. Paying tithes definitely costs you:

Then Melchizedek king of Salem brought out bread and wine; he was the priest of God Most High. And he blessed him and said: "Blessed be Abram of God Most High, Possessor of heaven and earth; And blessed be God Most High, Who has delivered your enemies into your hand." And he gave him a tithe of all (Genesis 14:18-20 ESV).
Of course, Abraham didn't even know what Jesus said about loving your neighbour as you love yourself (Matthew 22:39) but the concept was just part of his worship. When Lot and his family were captured, Abraham immediately went and rescued them (read entire story - Genesis 14:1-16).
Abraham not only worshipped God figuratively (or metaphorically) but he knew when to do it literally (or physically)! Then God made the Abrahamic covenant with him, right after Abraham fell on his face:
Then Abram fell on his face. And God said to him, "Behold, my covenant is with you, and you shall be the father of a multitude of nations (Genesis 17:3-4 ESV).
In conclusion, I pray that after seeing how Abraham worshipped God with all of his heart, soul and mind that the Lord will help us daily to do the same, in Jesus' name.
From Worship to Praise