Blessed by God
Do you want to be blessed by God? Jesus wants to bless us all! We just need to obey the word of God:
And all these blessings shall come on thee, and overtake thee, if thou shalt hearken unto the voice of the LORD thy God (Deuteronomy 28:2).
The word of God tells us what Jesus is looking for, so He can bless us.
1. Those that are Righteous in God's Eyes

God blesses those who are righteous, who keep His commandments, and who are not ungodly.
For thou, LORD, wilt bless the righteous; with favour wilt thou compass him as with a shield (Psalms 5:12).
For Moses had said, Consecrate yourselves to day to the LORD, even every man upon his son, and upon his brother; that he may bestow upon you a blessing this day (Exodus 32:29).
But whoso looketh into the perfect law of liberty, and continueth therein, he being not a forgetful hearer, but a doer of the work, this man shall be blessed in his deed (James 1:25).

Blessed is the man that walketh not in the counsel of the ungodly, nor standeth in the way of sinners, nor sitteth in the seat of the scornful (Psalms 1:1).
Jesus summed it up the best in the Sermon of the Mount:
Blessed are they which do hunger and thirst after righteousness: for they shall be filled (Matthew 5:6). 
We all need to ask ourselves on a daily basis "Do I truly thirst and hunger after righteousness". I know for myself that I need to pray this regularly so that I can live this "beatitude" in my daily life and be blessed by God.
2. Those that Trust in God
We are directed to trust in God to be blessed by Him:
O taste and see that the LORD is good: blessed is the man that trusteth in him (Psalms 34:8  ).
Blessed is the man that trusteth in the LORD, and whose hope the LORD is (Jeremiah 17:7). 
Some trust in chariots, and some in horses: but we will remember the name of the LORD our God (Psalms 20:7). 
3. Those that are Forgiven of Sins
Repenting, turning to God, will trigger forgiveness of our sins and will cause God to bless us.
Blessed is he whose transgression is forgiven, whose sin is covered (Psalms 32:1).
Saying, Blessed are they whose iniquities are forgiven, and whose sins are covered. Blessed is the man to whom the Lord will not impute sin (Romans 4:7-8).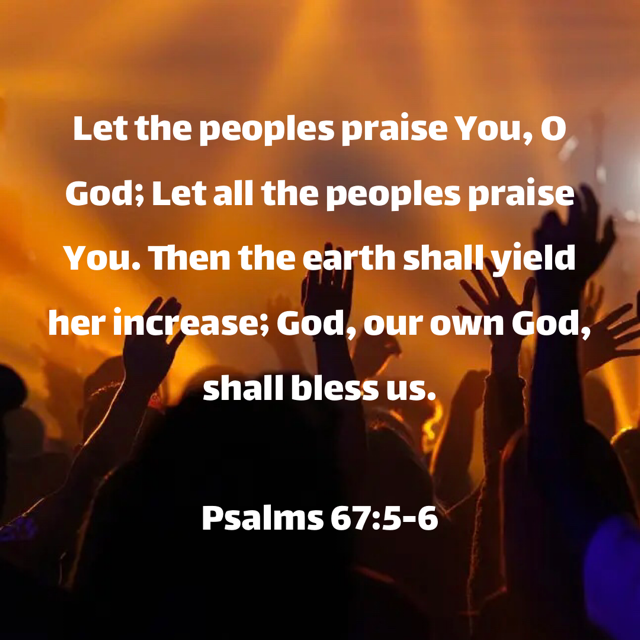 4. Those that Praise Him
About twenty-five percent of the time that bless is used in the Bible, it is used in conjunction with praising the Lord. Surely if the men of God from the Bible praised God, we should be praising Him all day long. 
Let the people praise thee, O God; let all the people praise thee. Then shall the earth yield her increase; and God, even our own God, shall bless us (Psalms 67:5-6).
By him therefore let us offer the sacrifice of praise to God continually, that is, the fruit of our lips giving thanks to his name (Hebrews 13:15).
5. Those that Fear the Lord
Fear of the Lord is about having reverence for God, which is having Godly fear.

He will bless them that fear the LORD, both small and great (Psalm 115:13).
Blessed is every one that feareth the LORD; that walketh in his ways (Psalm 128:1). 
Wherefore we receiving a kingdom which cannot be moved, let us have grace, whereby we may serve God acceptably with reverence and godly fear: For our God is a consuming fire (Hebrews 12:28-29). 
Looking at Hebrews 12:28-29, it is a good opportunity to observe what the opposite of  being blessed by God looks like. It is pretty clear for those that don't have reverence and Godly fear - for those that don't want His grace, for the backsliders, for the lukewarm – God becomes a consuming fire. Why would anyone want to be on that side of the ledger instead of the blessing side?
This is probably true with every other blessing God offers – it can readily be turned into a curse if you don't want the blessing. Here is what Malachi wrote: 
If ye will not hear, and if ye will not lay it to heart, to give glory unto my name, saith the LORD of hosts, I will even send a curse upon you, and I will curse your blessings: yea, I have cursed them already, because ye do not lay it to heart (Malachi 2:2).
6. Those that have Faith
Receiving the gift of the Holy Spirit is being blessed by God and it comes through faith: 
That the blessing of Abraham might come on the Gentiles through Jesus Christ; that we might receive the promise of the Spirit through faith (Galatians 3:14).
7. Those that are Obedient
This is really simple! Just by obeying His voice and the Word, we will be blessed by God.
And in thy seed shall all the nations of the earth be blessed; because thou hast obeyed my voice (Genesis 22:18).
A blessing, if ye obey the commandments of the LORD your God, which I command you this day (Deuteronomy 11:27). 
8. Those that Tithe
God will pour us out a blessing that we won't have enough room to store it, if we simply tithe, which is giving the first ten percent of our income to God.

Bring ye all the tithes into the storehouse, that there may be meat in mine house, and prove me now herewith, saith the LORD of hosts, if I will not open you the windows of heaven, and pour you out a blessing, that there shall not be room enough to receive it (Malachi 3:10).
9. Those that Give to the Poor
Do we miss out on this opportunity of being blessed by God? By giving to the poor and needy, as well as our brother, God will bless us in all of our works and whatever we touch.

Thou shalt surely give him, and thine heart shall not be grieved when thou givest unto him: because that for this thing the LORD thy God shall bless thee in all thy works, and in all that thou puttest thine hand unto. For the poor shall never cease out of the land: therefore I command thee, saying, Thou shalt open thine hand wide unto thy brother, to thy poor, and to thy needy, in thy land (Deuteronomy 15:10-11).
10. Those that Wait for the Lord
If we wait for the Lord, He will be so gracious with His blessing, that we will exalt His name because there will be no doubt that it is a blessing from God – He will receive all the glory.

And therefore will the LORD wait, that he may be gracious unto you, and therefore will he be exalted, that he may have mercy upon you: for the LORD is a God of judgment: blessed are all they that wait for him (Isaiah 30:18).
11. Those that Serve God
A servant of God is blessed by God.
And now, O Lord GOD, thou art that God, and thy words be true, and thou hast promised this goodness unto thy servant: Therefore now let it please thee to bless the house of thy servant, that it may continue for ever before thee: for thou, O Lord GOD, hast spoken it: and with thy blessing let the house of thy servant be blessed for ever (2 Samuel 7:28-29).
This is true in the temporal: 
And ye shall serve the LORD your God, and he shall bless thy bread, and thy water; and I will take sickness away from the midst of thee (Exodus 23:25).
If ye know these things (Jesus is talking about serving), happy are ye if ye do them (John 13:17),
as well, as for our eternity: 
Blessed is that servant, whom his lord when he cometh shall find so doing (Matthew 24:46 ).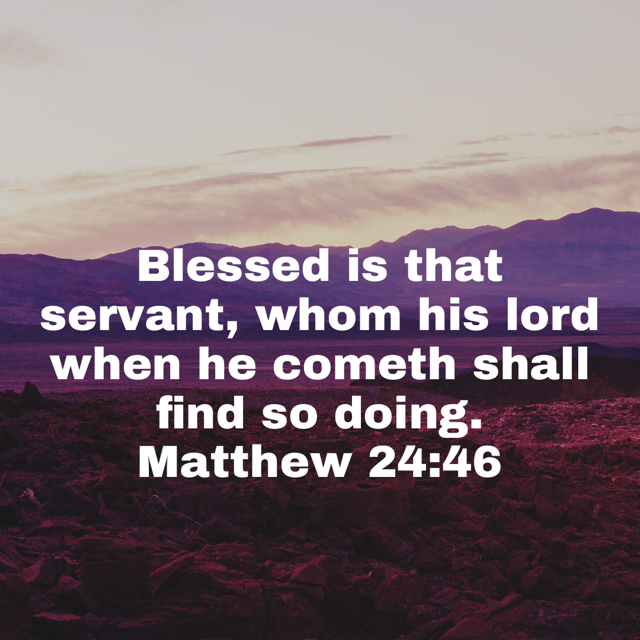 12. Those that are Chastened by God
The Psalmist said:
Blessed is the man whom thou chastenest, O LORD, and teachest him out of thy law (Psalms 94:12).
When Jesus chastens us we know that He loves us like the Father He is:
As many as I love, I rebuke and chasten: be zealous therefore, and repent (Revelation 3:19).
For whom the Lord loveth he chasteneth, and scourgeth every son whom he receiveth. If ye endure chastening, God dealeth with you as with sons; for what son is he whom the father chasteneth not (Hebrews 12:6-7)?
13. Those that are Poor in Spirit
The poor in Spirit are blessed by God. 

Blessed are the poor in spirit: for theirs is the kingdom of heaven (Matthew 5:3).
This concept is further explained by looking at what Isaiah said:

For all those things hath mine hand made, and all those things have been, saith the LORD: but to this man will I look, even to him that is poor and of a contrite spirit, and trembleth at my word (Isaiah 66:2).
A good example of being "poor in spirit" from the Bible is the publican,
And the publican, standing afar off, would not lift up so much as his eyes unto heaven, but smote upon his breast, saying, God be merciful to me a sinner (Luke 18:13).
and Jesus said that the publican would be justified:
I tell you, this man went down to his house justified rather than the other: for every one that exalteth himself shall be abased; and he that humbleth himself shall be exalted (Luke 18:14).

I think we get to this point when we know that the only good in us comes from God and that we are totally dependent on the grace and mercy of Jesus.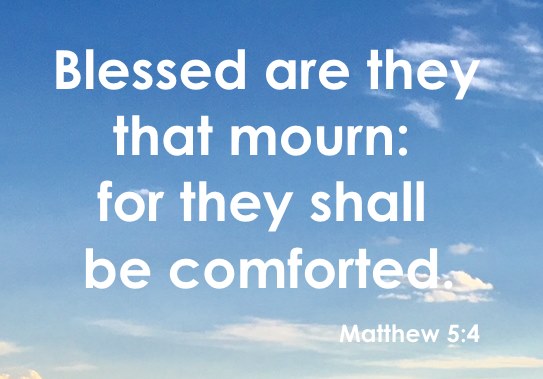 14. Those that Mourn with Godly Sorrow
They that mourn with Godly sorrow are blessed by God. Jesus said:
Blessed are they that mourn: for they shall be comforted (Matthew 5:4).
Jesus was not talking about worldly sorrow, He was talking about Godly sorrow like:
1. Repentant mourning for our own sins:
Have mercy upon me, O LORD, for I am in trouble: mine eye is consumed with grief, yea, my soul and my belly. For my life is spent with grief, and my years with sighing: my strength faileth because of mine iniquity, and my bones are consumed (Psalms 31:9-10). 
2. Mourning of sins of others, of perishing souls, like Jesus wept over Jerusalem:
And when he was come near, he beheld the city, and wept over it (Luke 19:41).
3. Mourning for the sufferings of Christ:

And I will pour upon the house of David, and upon the inhabitants of Jerusalem, the spirit of grace and of supplications: and they shall look upon me whom they have pierced, and they shall mourn for him, as one mourneth for his only son, and shall be in bitterness for him, as one that is in bitterness for his firstborn (Zechariah 12:10).
For as the sufferings of Christ abound in us, so our consolation also aboundeth by Christ (2 Corinthians 1:5).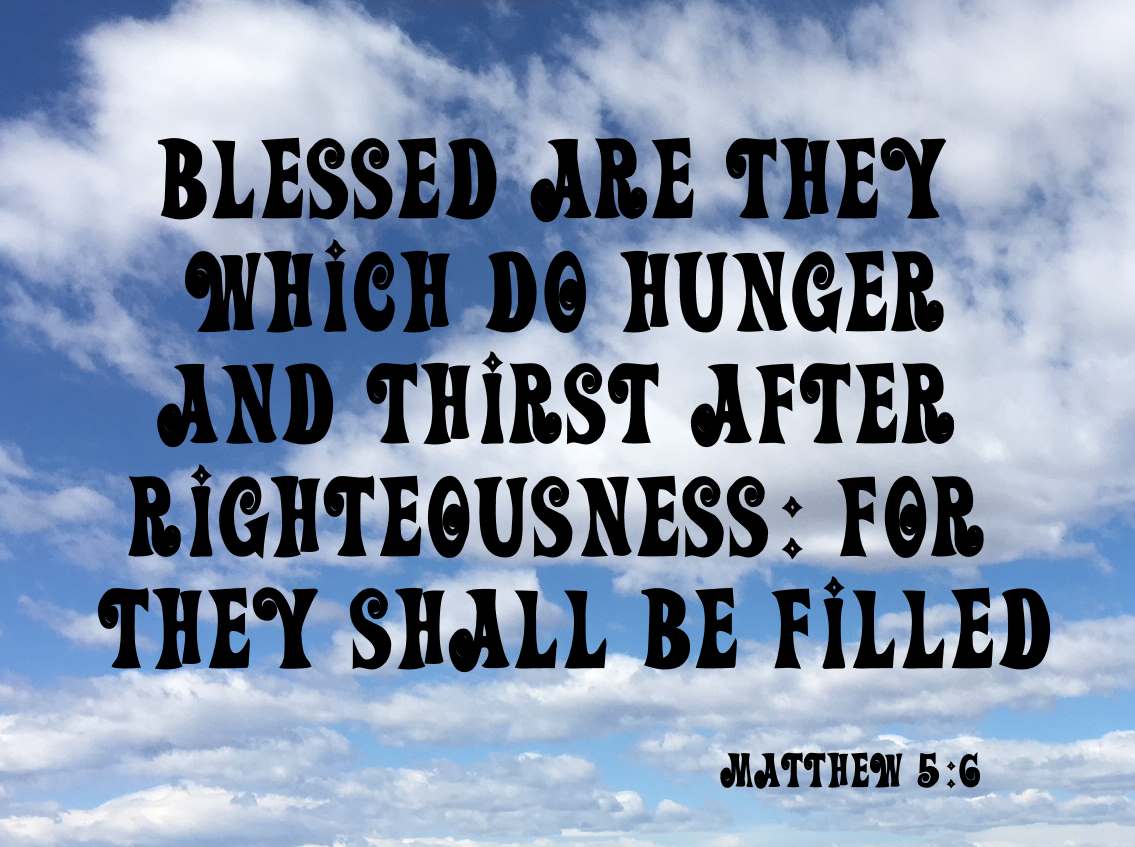 15. Those that are Meek
Those that are meek, are blessed by God: 
Blessed are the meek: for they shall inherit the earth (Matthew 5:5).
Bible scholar, Matthew Henry gives us a good description of meekness:
"The meek are those who quietly submit themselves to God, to his word and to his rod, who follow his directions, and comply with his designs, and are gentle towards all men (Titus 3:2); who can bear provocation without being inflamed by it; are either silent, or return a soft answer; and who can show their displeasure when there is occasion for it, without being transported into any indecencies; who can be cool when others are hot; and in their patience keep possession of their own souls, when they can scarcely keep possession of anything else. They are the meek, who are rarely and hardly provoked, but quickly and easily pacified; and who would rather forgive twenty injuries than revenge one, having the rule of their own spirits."
16. Those that are Merciful
Those that are merciful are blessed by God. If we pray to be like Jesus, surely we pray to be merciful, for there has never been anyone as merciful as the One that is God and the God that is One, Jesus Christ. 
Blessed are the merciful: for they shall obtain mercy (Matthew 5:7).
Put on therefore, as the elect of God, holy and beloved, bowels of mercies, kindness, humbleness of mind, meekness, longsuffering (Colossians 3:12).
17. Those that are Peacemakers
Those that are peacemakers are blessed by God:
Blessed are the peacemakers: for they shall be called the children of God (Matthew 5:9).
We know that Jesus is the God of Peace (Romans 15:33) and the Prince of Peace (Isaiah 9:6) so as Christians, being Christ like, everything about us must be of peace. One of the fruits of the Spirit is peace (Galatians 5:22). 
And as His Ambassadors, we must work in His stead: 
Now then we are ambassadors for Christ, as though God did beseech you by us: we pray you in Christ's stead, be ye reconciled to God (2 Corinthians 5:20). 
How can we be anything else but peacemakers?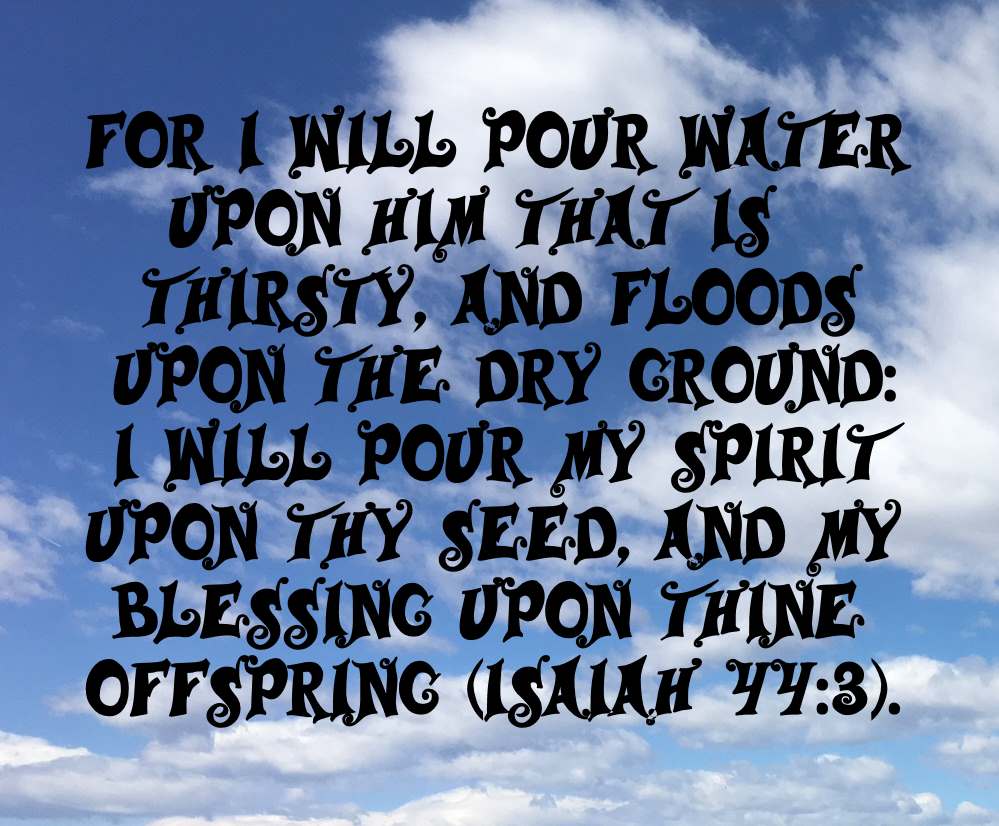 18. Those that are Persecuted for Righteousness
Those that are persecuted for righteousness' sake will be blessed by God. 
Blessed are they which are persecuted for righteousness' sake: for theirs is the kingdom of heaven (Matthew 5:10). 
Whosoever is born of God doth not commit sin; for his seed remaineth in him: and he cannot sin, because he is born of God.  In this the children of God are manifest, and the children of the devil: whosoever doeth not righteousness is not of God, neither he that loveth not his brother. Marvel not, my brethren, if the world hate you (1 John 3:9, 10, 13). 
19. Those that are Persecuted for Jesus' Sake
If we are persecuted for Jesus' sake, we will be blessed by God.
Blessed are ye, when men shall revile you, and persecute you, and shall say all manner of evil against you falsely, for my sake (Matthew 5:11). 
And if children, then heirs; heirs of God, and joint-heirs with Christ; if so be that we suffer with him, that we may be also glorified together (Romans 8:17). 
20. Those that are His Seed
Finally, His Seed will be blessed by God:
For I will pour water upon him that is thirsty, and floods upon the dry ground: I will pour my spirit upon thy seed, and my blessing upon thine offspring (Isaiah 44:3).

Ye are the children of the prophets, and of the covenant which God made with our fathers, saying unto Abraham, And in thy seed shall all the kindreds of the earth be blessed (Acts 3:25)
To receive this blessing you must become His seed, you must obey the Gospel of Jesus Christ, you must be born again.
From Blessed by God to Overcomers


From Blessed by God to Born Again