Walking With Jesus
Many Christians talk about walking with Jesus. Talking about walking in His ways is not what He wants. The Psalmist wrote:
But My people would not heed My voice, And Israel would have none of Me.
So I gave them over to their own stubborn heart, To walk in their own counsels. "Oh, that My people would listen to Me, That Israel would walk in My ways (Psalm 81:11-13 NKJV).
There are many scriptures in the New Testament that tell us exactly what "walking with Jesus" looks like. Let us examine some of those scriptures.
Walk in the Light
When Jesus was talking to the Pharisees in John 8, He told them not to walk in darkness but in the light of life.

Then Jesus spoke to them again, saying, I am the light of the world. He that follows me shall not walk in darkness, but shall have the light of life (John 8:12 NKJV).
The Pharisees rejected that notion (John 8:13 NKJV) because Jesus was saying He was the light of life, that He is God. Jesus went on to explain that He actually is God (John 8:14-18 NKJV). The Pharisees then asked Him:
Where is Your Father (John 8:19 NKJV)?
Jesus answered telling them once again that He is God:
You know neither Me nor My Father. If you had known Me, you would have known My Father also (John 8:19 NKJV).
The Pharisees knew what Jesus was saying when He said that He is the light of life, that He is in fact God. If we don't know that Jesus is God, we will always walk in darkness just like the Pharisees walked. Without knowing who He is, walking with Jesus will be impossible.
Walk in Faith
Walking with Jesus must include walking by faith:
For we walk by faith, not by sight (2 Corinthians 5:7 NKJV).
The Apostle Paul also said in Colossians that this walk will be established in the faith that Paul taught and that we should abound in thanksgiving that we have such faith:

As you therefore have received Christ Jesus the Lord, so walk in Him, rooted and built up in Him and established in the faith, as you have been taught, abounding in it with thanksgiving (Colossians 2:6-7 NKJV).
We know exactly what the "faith" that "walk in Him" consists of because Paul had already addressed that point in the first chapter of Colossians:
In the body of His flesh through death, to present you holy, and blameless, and above reproach in His sight if indeed you continue in the faith, grounded and steadfast, and are not moved away from the hope of the gospel which you heard, which was preached to every creature under heaven, of which I, Paul, became a minister (Colossians 1:22-23 NKJV).
As we just read, this faith when we "walk in Him" is the Gospel of Jesus Christ, which was preached by Paul to the Colossians as well as "every creature under heaven" by him and the other Apostles. We know that faith includes obeying the Gospel so that we can be saved. Here is an example of what "walking with Jesus" looked like to Paul when he met John the Baptist's disciples at Ephesus:
And it came to pass, that, while Apollos was at Corinth, Paul having passed through the upper coasts came to Ephesus: and finding certain disciples, He said unto them, Have ye received the Holy Ghost since ye believed?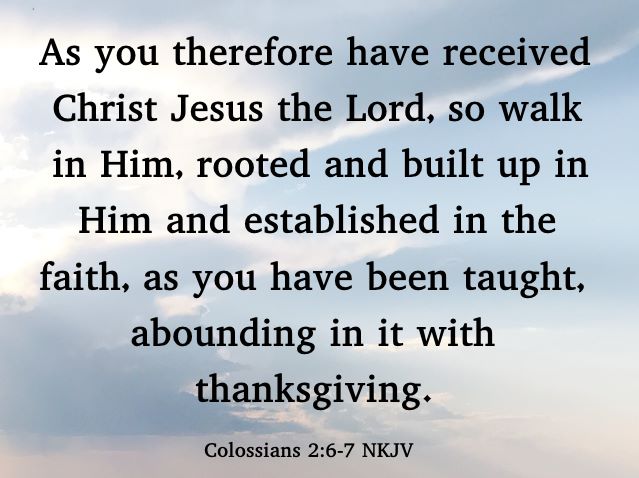 And they said unto him, We have not so much as heard whether there be any Holy Ghost. And he said unto them, Unto what then were ye baptized? And they said, Unto John's baptism. Then said Paul, John verily baptized with the baptism of repentance, saying unto the people, that they should believe on him which should come after him, that is, on Christ Jesus. When they heard this, they were baptized in the name of the Lord Jesus. And when Paul had laid his hands upon them, the Holy Ghost came on them; and they spake with tongues, and prophesied. And all the men were about twelve (Acts 19:1-7).

Walking with Jesus in faith must include obeying the gospel: repentance, baptism in the name of Jesus and receiving the gift of the Holy Ghost, with the evidence of speaking in tongues (Acts 2:38). After we obey the gospel, our walk with Jesus will include preaching and teaching this soul saving gospel to the lost (Mark 16:15)
Walk in Newness of Life
Walking with Jesus allows us to walk in a totally new life. The Apostle Paul tells us that after repenting (death to self) and being baptized, we will raised up like Christ to walk in newness of life:

Therefore we are buried with him by baptism into death: that like as Christ was raised up from the dead by the glory of the Father, even so we also should walk in newness of life (Romans 6:4 NKJV).
What Paul is saying is that we should receive the exact same power Christ had when He rose from the dead. That power is the Holy Spirit:
But if the Spirit of Him who raised Jesus from the dead dwells in you, He who raised Christ from the dead will also give life to your mortal bodies through His Spirit who dwells in you (Romans 8:11 NKJV).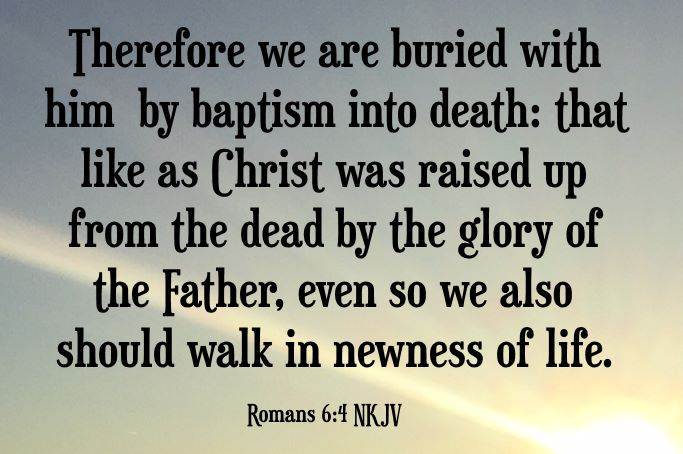 Paul also tells us that the Holy Spirit, which is Jesus Christ, who is God will dwell and walk in us and that He will be our God and we will be His people.

And what agreement has the temple of God with idols? For you are the temple of the living God. As God has said: I will dwell in them And walk among them. I will be their God, And they shall be My people (2 Corinthians 6:16).
Hallelujah, walking with Jesus is such a blessing.
Walk in the Spirit
Now after we have obeyed the Gospel of Jesus Christ, having been filled with the Holy Ghost (knowing this is true because we spoke in tongues - Acts 2:4, Mark 16:17), walking with Jesus means we will walk according to the Spirit and not the flesh:
There is therefore now no condemnation to those who are in Christ Jesus, who do not walk according to the flesh, but according to the Spirit (Romans 8:1 NKJV). 
That the righteous requirement of the law might be fulfilled in us who do not walk according to the flesh but according to the Spirit (Romans 8:4 NKJV).
I say then: Walk in the Spirit, and you shall not fulfill the lust of the flesh (Galatians 5:16 NKJV).
Summary
In summary, walking with Jesus means:
From Walking With Jesus to Jesus Christ