Bible Verses about Wise Counsel
Bible Verses about wise counsel can be categorized into two different sections. Obviously, counsel from God should be the most important. Also, we have wise counsel from humans that we need to appreciate and use in our daily lives. The problem is though, we are not particularly adept at receiving counsel from anyone, especially, and unfortunately, from God.
Counsel from God
Blessed is the man Who walks not in the counsel of the ungodly, Nor stands in the path of sinners, Nor sits in the seat of the scornful; But his delight is in the law of the Lord, And in His law he meditates day and night (Psalm 1:1-2 NKJV).
I will instruct you and teach you in the way you should go; I will counsel you with my loving eye on you (Psalm 32:8 NIV).
The counsel of the Lord stands forever, the plans of his heart to all generations (Psalm 33:11 ESV).
Your word is a lamp to my feet And a light to my path (Psalm 119:105 NKJV).
The fear of the Lord is the beginning of knowledge: but fools despise wisdom and instruction (Proverbs 1:7).
Trust in the Lord with all thine heart; and lean not unto thine own understanding. In all thy ways acknowledge him, and he shall direct thy paths (Proverbs 3:5-6).
Listen to counsel and receive instruction, That you may be wise in your latter days. There are many plans in a man's heart,  Nevertheless the Lord's counsel—that will stand (Proverbs 19:20-21 NKJV).
And the spirit of the Lord shall rest upon him, the spirit of wisdom and understanding, the spirit of counsel and might, the spirit of knowledge and of the fear of the Lord (Isaiah 11:2).

But the Comforter, which is the Holy Ghost, whom the Father will send in my name, he shall teach you all things, and bring all things to your remembrance, whatsoever I have said unto you (John 14:26).

All scripture is given by inspiration of God, and is profitable for doctrine, for reproof, for correction, for instruction in righteousness (2 Timothy 3:16).
For the word of God is living and powerful, and sharper than any two-edged sword, piercing even to the division of soul and spirit, and of joints and marrow, and is a discerner of the thoughts and intents of the heart (Hebrews 4:12 NKJV).
For whatever was written in former days was written for our instruction, that through endurance and through the encouragement of the Scriptures we might have hope (Romans 15:4 ESV).
Counsel from Man
A wise man will hear and increase learning, And a man of understanding will attain wise counsel (Proverbs 1:5 NKJV).

Hold on to instruction, do not let it go; guard it well, for it is your life (Proverbs 4:13 NIV).

Give instruction to a wise man, and he will be still wiser; teach a righteous man, and he will increase in learning (Proverbs 9:9 ESV).

Where there is no counsel, the people fall; But in the multitude of counselors there is safety (Proverbs 11:14 NKJV).
Fools think their own way is right, but the wise listen to others (Proverbs 12:15 NLT).
A wise son heeds his father's instruction, but a mocker does not respond to rebukes (Proverbs 13:1 NIV).

Where there is strife, there is pride, but wisdom is found in those who take advice (Proverbs 13:10 NIV).
Walk with the wise and become wise; associate with fools and get in trouble (Proverbs 13:20 NLT).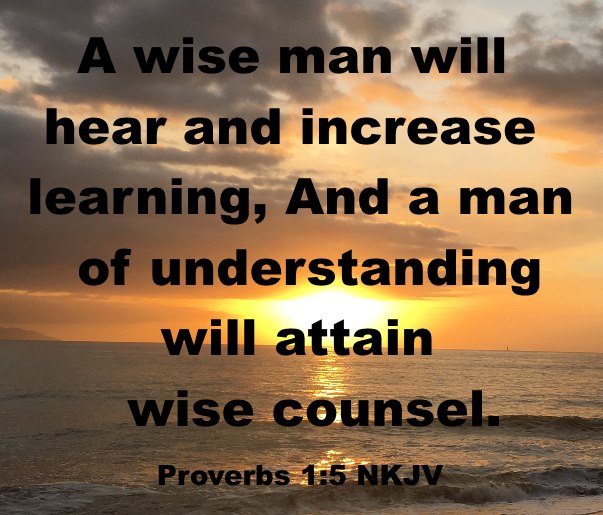 Mockers resent correction, so they avoid the wise (Proverbs 15:12 NIV).

Without counsel, plans go awry, But in the multitude of counselors they are established (Proverbs 15:22 NKJV).
If you listen to constructive criticism, you will be at home among the wise (Proverbs 15:31 NLT).

There is gold, and a multitude of rubies: but the lips of knowledge are a precious jewel (Proverbs 20:15).

For by wise counsel you will wage your own war, And in a multitude of counselors there is safety (Proverbs 24:6 NKJV).
The heartfelt counsel of a friend is as sweet as perfume and incense (Proverbs 27:9 NLT).

Two people are better off than one, for they can help each other succeed. If one person falls, the other can reach out and help. But someone who falls alone is in real trouble (Ecclesiastes 4:9-10 NLT).

It is better to be a poor but wise youth than an old and foolish king who refuses all advice (Ecclesiastes 4:13 NLT).
From Bible Verses about Wise Counsel to Bible Verses


From Bible Verses about Wise Counsel to Obeying the Gospel


From Bible Verses about Wise Counsel to Jesus is God