Lamb's Book of Life
Without being written in the Lamb's Book of Life, we cannot spend eternity with Jesus:
Now I saw a new heaven and a new earth, for the first heaven and the first earth had passed away. Also there was no more sea. Then I, John, saw the holy city, New Jerusalem, coming down out of heaven from God, prepared as a bride adorned for her husband ....... But there shall by no means enter it anything that defiles, or causes an abomination or a lie, but only those who are written in the Lamb's Book of Life (Rev 21:1-2 NKJV, Rev 21:27 NKJV).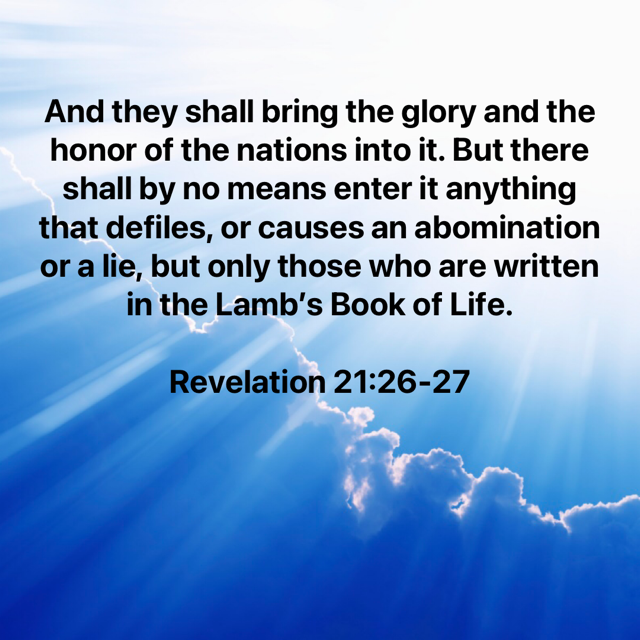 We also see in Scripture that we must be born again, obeying the Gospel of Jesus Christ, to spend eternity in heaven and not hell. This clearly stated in these 2 verses:
Jesus answered and said unto him, Verily, verily, I say unto thee, Except a man be born again, he cannot see the kingdom of God (John 3:3).
And to you who are troubled rest with us, when the Lord Jesus shall be revealed from heaven with his mighty angels, In flaming fire taking vengeance on them that know not God, and that obey not the gospel of our Lord Jesus Christ (1Thessalonians 1:7-8).
And the good news is that obedience to the Gospel, by obeying Acts 2:38, to be born again, is available to all as Peter proclaimed on the day of Pentecost.

Then Peter said unto them, Repent, and be baptized every one of you in the name of Jesus Christ for the remission of sins, and ye shall receive the gift of the Holy Ghost. For the promise is unto you, and to your children, and to all that are afar off, even as many as the Lord our God shall call (Acts 2:38-39).
Conclusion
To obey this Gospel, by obeying Acts 2:38 so we can be born again is God's way of writing our names into  the Lamb's Book of Life, giving us the opportunity to be heaven bound when He returns to catch the church away:
For the Lord himself shall descend from heaven with a shout, with the voice of the archangel, and with the trump of God: and the dead in Christ shall rise first: Then we which are alive and remain shall be caught up together with them in the clouds, to meet the Lord in the air: and so shall we ever be with the Lord. Wherefore comfort one another with these words (1 Thessalonians 4:16-18).
I specifically said "giving us the opportunity to be heaven bound" because once saved, always saved is a false doctrine. Backsliding and being reprobate will get us to hell, and not heaven, so we must also live and lead a repentant lifestyle to make it to heaven.