Joy Unspeakable
The Apostle Peter tells us that we should rejoice with "joy unspeakable and full of glory" because our reward for our faith in Jesus Christ is salvation at His appearing:
That the trial of your faith, being much more precious than of gold that perisheth, though it be tried with fire, might be found unto praise and honour and glory at the appearing of Jesus Christ: Whom having not seen, ye love; in whom, though now ye see him not, yet believing, ye rejoice with joy unspeakable and full of glory: Receiving the end of your faith, even the salvation of your souls (1Peter 1:7,8,9)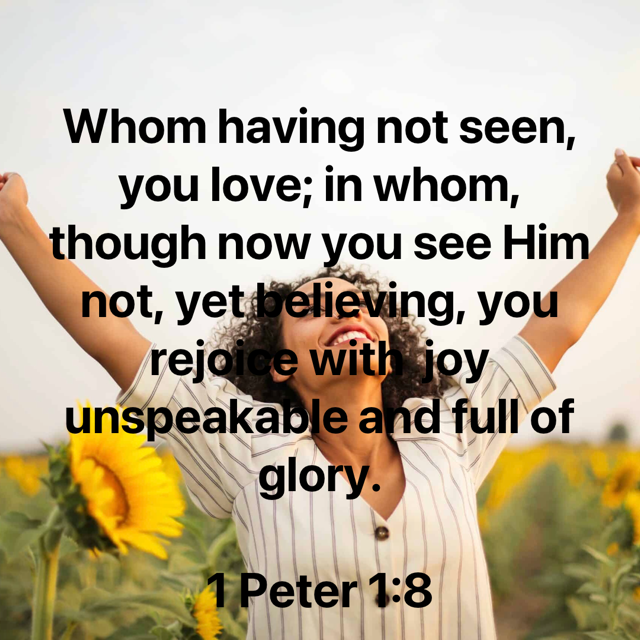 As in every Epistle, Peter is writing to those that have been filled with the Holy Spirit:
Peter, an apostle of Jesus Christ, to the strangers scattered throughout Pontus, Galatia, Cappadocia, Asia, and Bithynia, Elect according to the foreknowledge of God the Father, through sanctification of the Spirit, unto obedience and sprinkling of the blood of Jesus Christ: Grace unto you, and peace, be multiplied (1 Peter 1:1-2).
In those verses, Peter is also teaching us that:
We live in a strange land, the world is not our home (Hebrews 13:14 NLT). Our beautiful home country is heaven with the capital being the New Jerusalem (Revelation 21:2).
As His chosen people, we must always obey Him (John 14:15 NLT)
He then informs us because we have been born again ("begotten us again"), we have hope that is alive in Jesus Christ for eternal life in heaven:
Blessed be the God and Father of our Lord Jesus Christ, which according to his abundant mercy hath begotten us again unto a lively hope by the resurrection of Jesus Christ from the dead, To an inheritance incorruptible, and undefiled, and that fadeth not away, reserved in heaven for you (1 Peter 1:3-4 ).
And because we have faith in Jesus Christ, we are protected by His power, until He returns:
Who are kept by the power of God through faith unto salvation ready to be revealed in the last time (1 Peter 1:5).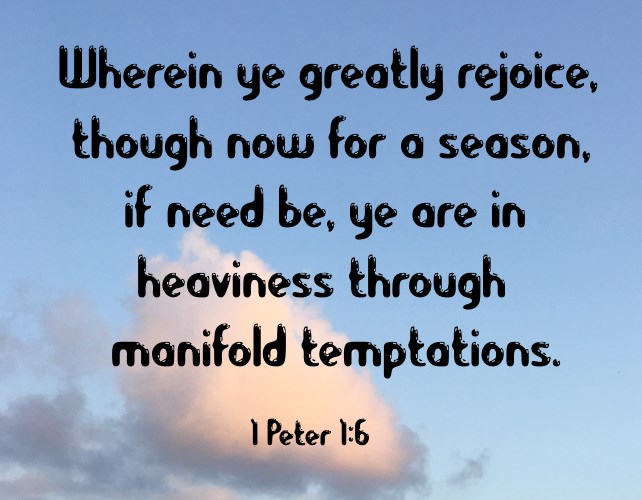 We are to greatly rejoice even though various trials lie ahead of us:
Wherein ye greatly rejoice, though now for a season, if need be, ye are in heaviness through manifold temptations (1 Peter 1:6).
The word "rejoice" in verse 6, in the Greek is:
agalliáō, ag-al-lee-ah'-o (G21); from agan (much) and G242 (gush up, leap up spring up); properly, to jump for joy, i.e. exult:—be (exceeding) glad, with exceeding joy, rejoice (greatly).
In other words we are to gush-up, leap-up, jump-up, spring-up for joy, no matter what our emotional state or condition is in. We can't let our trials get us down. In fact, Peter goes on to tell us that because of our faith, we will be as pure as refined gold when heat is applied to our life:

These trials will show that your faith is genuine. It is being tested as fire tests and purifies gold—though your faith is far more precious than mere gold. So when your faith remains strong through many trials, it will bring you much praise and glory and honor on the day when Jesus Christ is revealed to the whole world (1 Peter 1:7 NLT).

Yes indeed, the trial of our faith, through heat, means that our impurities are being removed by the Holy Spirit. We want to thank God for every trial. We need to jump for joy when this happens, instead of climbing into our "me me" tree and having a pity party. There should not be any need to stress our stresses. Our trials should never stop our rejoicing. In fact, we should just be able to tell our stresses, our struggles, our trials to just get lost, and then leap for pure joy as we know we are going to spend eternity with Jesus Christ.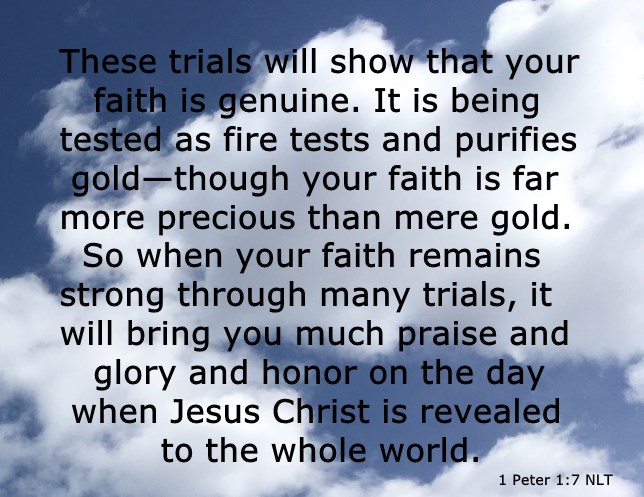 In our opening scripture, in 1 Peter 1:8, Peter used the word "unspeakable" to describe joy, the only time the Greek word aneklálētos is used in the Bible. Strong's definition is:
an-ek-lal'-ay-tos; from G1 (as a negative particle) and a presumed derivative of G1583; not spoken out, i.e. (by implication) unutterable:—unspeakable.
Thayer's brings more clarity to the definition:
unspeakable - to which words are inadequate.
Peter also used rejoice - agalliáō in verse 8 (part of our opening scripture), just like he did in verse 6. Little wonder he used agalliáō, if words are inadequate to describe our joy, then yes, we need to gush-up, leap-up, jump-up, spring-up for joy, since we have the Holy Ghost, having obeyed the Gospel (1 Peter 1:12) and because of the grace of God (1 Peter 1:13) we look forward to heaven and its capital, the New Jerusalem.
From Joy Unspeakable to Born Again