Revival in Western Uganda - September 2020
Revival in Western Uganda continued in September 2020. Praise the Lord. This mission was focused on the districts of Kagadi, Kyegeggwa, and Keyenjojo.

The revival mission took place from September 11-15. The mission was led by Pastor Isaac Kizito of Grace Tower Church Uganda in Kampala, Uganda and by Pastor David Nsimire of Faith on Fire Africa Ministries in the Mubende District of Western Uganda. 
There were two previous revival missions in Western Uganda. Please find the praise report for the first revival meeting in July here and the second in August here.
The highlights of this mission are as follows:
Five separate meetings were held, one each in the towns of Kagadi and Kyegeggwa and in three villages along the way.
A total of seventy trinitarian bishops, regional leaders and pastors heard the Apostolic Pentecostal doctrine preached.
Sixty-seven people were baptized in the name of Jesus Christ, including Bishop Medald and twelve pastors.
Twenty-four people received the gift of the Holy Ghost, evidenced by the speaking in tongues.
A church was planted in Butawulira village, Kagadi town.
After prayer, 2 miracles happened:
One lady had had been pregnant for 18 months and not giving birth.  Doctors had not seen the baby in scans. She was laid down in one of the meetings and prayed for. The power of God touched her and she gave birth that same night to a baby boy. The mother named the child Isaac immediately.
A man of 60 years who was ill and paralytic since August was prayed for and the power of God touched him and he had become whole.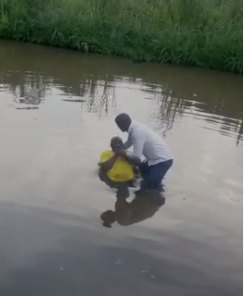 Bishop Medald being Baptized in Jesus' Name.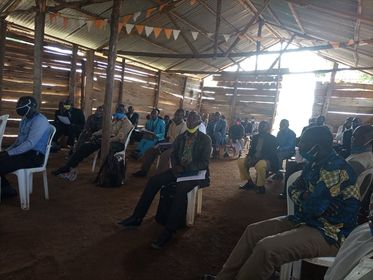 Teaching the Truth to Trinitarian Pastors
Miracle Baby Boy Born after Being Carried 18 Months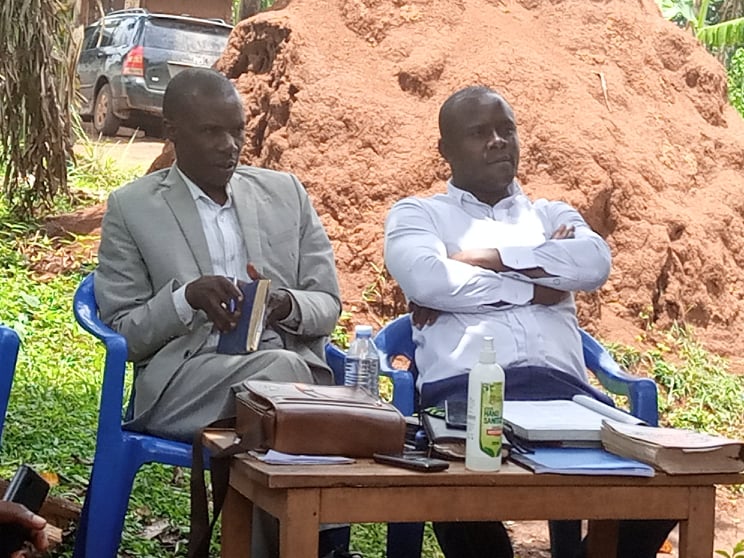 Pastors David and Isaac (left to right)
We thank and praise the Lord Jesus Christ because His promise is still given in the 21st century just like it was given the day of Pentecost in Acts Chapter 2:
And when the day of Pentecost was fully come, they were all with one accord in one place. And suddenly there came a sound from heaven as of a rushing mighty wind, and it filled all the house where they were sitting. And there appeared unto them cloven tongues like as of fire, and it sat upon each of them. And they were all filled with the Holy Ghost, and began to speak with other tongues, as the Spirit gave them utterance (Acts 2:1-4).
From Revival in Mubende District to Acts 2:38


From Revival in Mubende District to Born Again