Bathsheba
This description of Bathsheba is from 1988 Zondervan.

Bathsheba : the seventh daughter, or the daughter of an oath. "Bath" means "daughter." A kindred name is Bath Shua, a Canaanite name which implies, "the daughter of opulence." The wife of Judah is referred to as "Shua's daughter" (Genesis 38:2; 1 Chronicles 2:3). Bath Shua was also the name of the daughter of Ammiel and wife of David (1 Chronicles 3:5).
Bathsheba came of a God-fearing family. She was the daughter of Eliam or Ammiah, who was the son of Ahithophel. Eliam, whose name means "God is gracious," was one of David's gallant officers. Bathsheba became the wife of Uriah, the most loyal of David's men. After the murder of Uriah, she became the wife of David, and mother of five sons by him. The first died in infancy. The others were Solomon, Shimea, Shobub and Nathan. She is mentioned in our Lord's genealogy as "her that had been the wife of Uriah" (Matthew 1:6).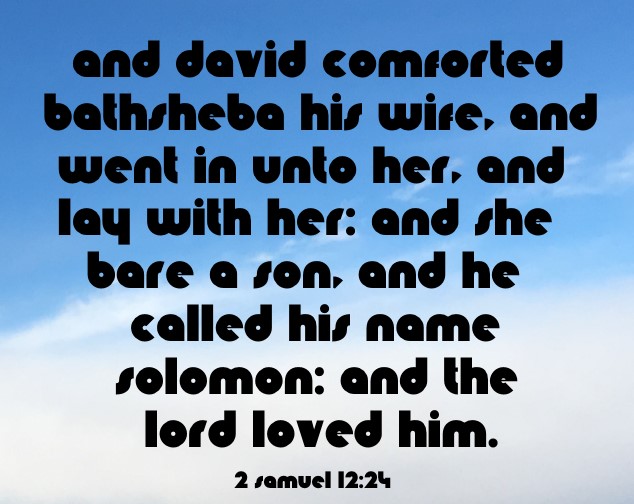 "After the accustomed period of mourning (of Uriah's death) Bathsheba became the wife of David, and their child of an adulterous union was born without disgrace, only to die within a week of his birth. "The Lord struck the child that Uriah's wife bare David." The deep grief of David over the sickness and death of the child, while not relieving the king of his murderous crime, gives us a glimpse of his better nature and of his faith in reunion beyond the grave. Perhaps no other passage of the Bible has been used to comfort sorrowing hearts in the hour of death as that in which David assures us of immortality. Mourning over his dead child he said, "Can I bring him back again?" No, he could not. Then came words binding up the cruel wound death causes, "I shall go to him, but he shall not return to me." Both David and Bathsheba must have had much agony of soul as they became deeply conscious that the death of their son, conceived out of wedlock, was a divine judgment upon their dark sin."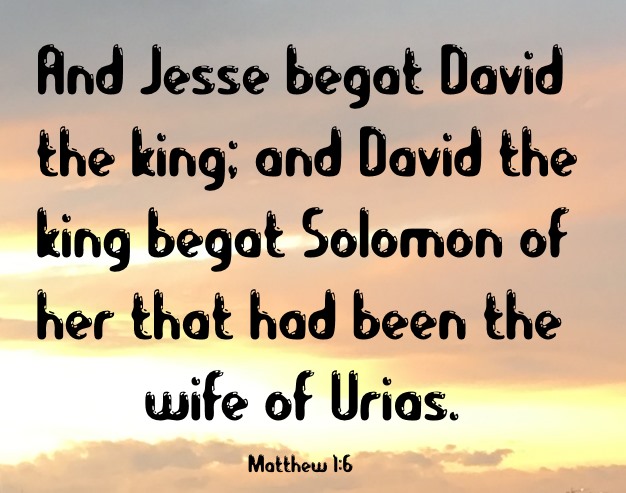 "What about Bathsheba? Did her tears of repentance mingle with those of her husband's? It would seem so, because God blessed them with another son whom they called Solomon, meaning, "Beloved of the Lord." Why was not such a son given to one of David's other wives? Given to David and Bathsheba was not Solomon an evidence and expression of God's pardoning love for both? Then, is not Bathsheba's inclusion in the genealogy of Jesus (Matthew 1) another token that God had put her sins behind His back? Restored to divine favor, and now virtuous and wise as well as beautiful, Bathsheba brought up her son Solomon in all godly diligence and care. Solomon himself came to write, "Train up a child in the way he should go" (Proverbs 22:6), which counsel reflected his own godly upbringing. Tradition says that it was Bathsheba who composed Proverbs 31, as an admonition to Solomon on his marriage to Pharaoh's daughter. If this be so, we can understand all the warnings against the flatteries of strange women with which Proverbs abounds."

From Bathsheba to Solomon