Be Strong
Just before the Israelites crossed the Jordan, the Lord admonished Joshua to be strong. God had just appointed Joshua to take over the leadership from Moses (Joshua 1:1, 2) and told him that He would be with him as they conquered the land that had been promised to Abraham, Isaac, and Jacob (Deuteronomy 30:20). The Lord said:
There shall not any man be able to stand before thee all the days of thy life: as I was with Moses, so I will be with thee: I will not fail thee, nor forsake thee (Joshua 1:5).

Even though the Lord had made this promise and that Joshua knew God cannot lie (Numbers 23:19), the Lord still had to encourage Joshua to be strong:
Be strong and of a good courage: for unto this people shalt thou divide for an inheritance the land, which I sware unto their fathers to give them (Joshua 1:6).

God had already told the Israelites, through Moses, that if they obeyed His commandments that they would be strong: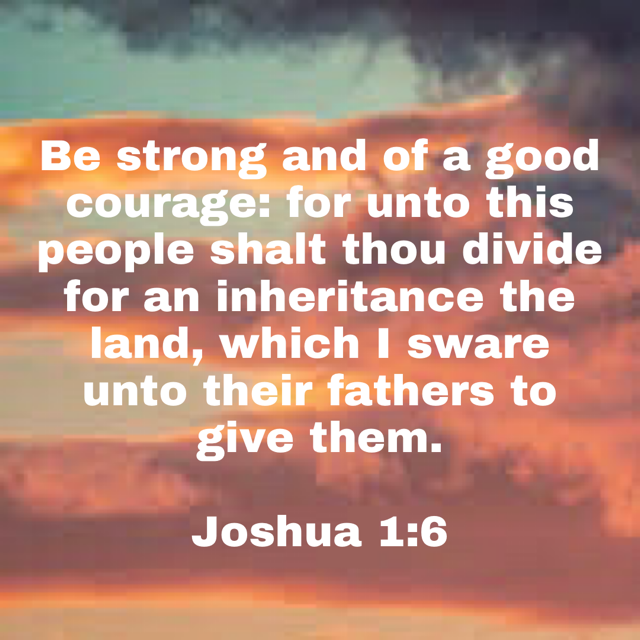 Therefore shall ye keep all the commandments which I command you this day, that ye may be strong, and go in and possess the land, whither ye go to possess it (Deuteronomy 11:8).
But, we know that for the most part they were not obedient. In fact by the time of the end of Judges, "every man did that which was right in his own eyes" (Judges 21:25).
God knew though that He would have to come Himself and save us:

Say to them that are of a fearful heart, Be strong, fear not: behold, your God will come with vengeance, even God with a recompence; he will come and save you (Isaiah 35:4).

And that is exactly what He did:
And she shall bring forth a son, and thou shalt call his name JESUS: for he shall save his people from their sins (Matthew 1:21)

Being Strong Today
God came in the flesh (John 1:1,14, 1 Timothy 3:16) so we might have His power, the power of the Holy Ghost (Acts 1:5,8). And the Apostle Paul equated having the power of His might to being strong in the Lord:
Finally, my brethren, be strong in the Lord and in the power of His might (Ephesians 6:10 NKJV).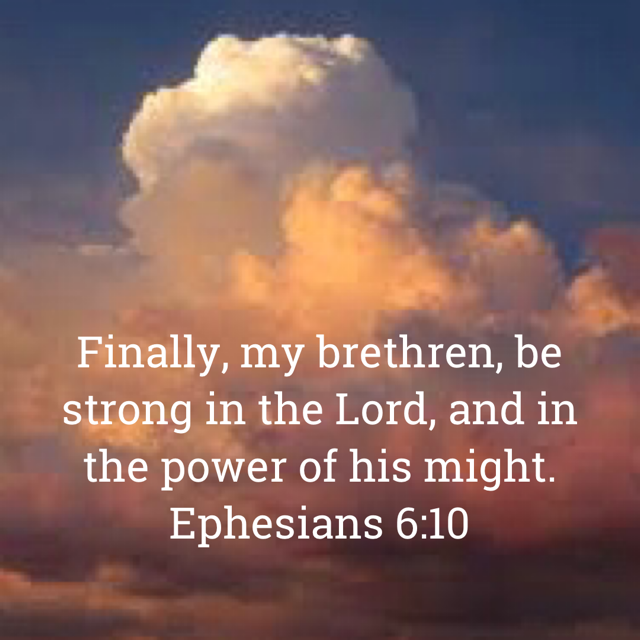 Paul then goes on to explain how this power will work for us to be strong in the Lord:
Put on the whole armour of God, that ye may be able to stand against the wiles of the devil. For we wrestle not against flesh and blood, but against principalities, against powers, against the rulers of the darkness of this world, against spiritual wickedness in high places. Wherefore take unto you the whole armour of God, that ye may be able to withstand in the evil day, and having done all, to stand. Stand therefore, having your loins girt about with truth, and having on the breastplate of righteousness; And your feet shod with the preparation of the gospel of peace; Above all, taking the shield of faith, wherewith ye shall be able to quench all the fiery darts of the wicked. And take the helmet of salvation, and the sword of the Spirit, which is the word of God: Praying always with all prayer and supplication in the Spirit, and watching thereunto with all perseverance and supplication for all saints (Ephesians 6:11-18)
Yes, let the power of the Holy Ghost strengthen us! Let us always declare:
I can do all things through Christ who strengthens me (Philippians 4:13 NKJV).