Chaff in the Wind, or Heaven?
The ungodly are chaff in the wind in Jesus' eyes. They will perish!
1. Blessed is the man
Who walks not in the counsel of the ungodly,
Nor stands in the path of sinners,
Nor sits in the seat of the scornful;
2. But his delight is in the law of the Lord,
And in His law he meditates day and night.
3. He shall be like a tree
Planted by the rivers of water,
4. The ungodly are not so,
But are like the chaff which the wind drives away.

 5. Therefore the ungodly shall not stand in the judgment,
Nor sinners in the congregation of the righteous.
6. For the Lord knows the way of the righteous,
But the way of the ungodly shall perish. (Psalms 1:1-6)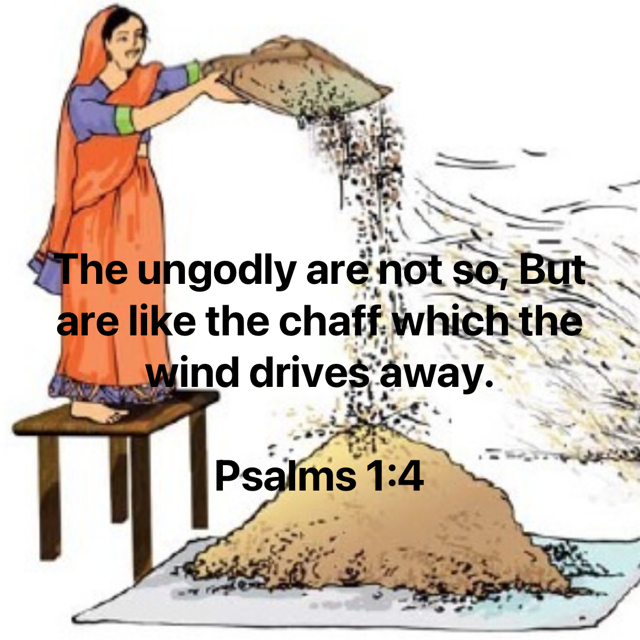 Jesus, tells us that there is a hell, and He is the One who makes that judgment:
And do not fear those who kill the body but cannot kill the soul. But rather fear Him who is able to destroy both soul and body in hell (Matthew 10:28 NKJV)

Then He will also say to those on the left hand, 'Depart from Me, you cursed, into the everlasting fire prepared for the devil and his angels' .... And these will go away into everlasting punishment, but the righteous into eternal life (Matthew 25:41,46).
But He Provides a Way Not to go to Hell
All we have to do is be born again, born of water and Spirit to see the kingdom of Heaven, and not the kingdom of hell:
Jesus answered and said to him, "Most assuredly, I say to you, unless one is born again, he cannot see the kingdom of God." Nicodemus said to Him, "How can a man be born when he is old? Can he enter a second time into his mother's womb and be born?" Jesus answered, "Most assuredly, I say to you, unless one is born of water and the Spirit, he cannot enter the kingdom of God." (John 3-3-5).
And if you doubt for one minute, that it won't be Jesus who will cast the ungodly into hell, remember that He is the One and Only God, the God that is One:
In the beginning was the Word, and the Word was with God, and the Word was God. The same was in the beginning with God .... And the Word was made flesh, and dwelt among us, (and we beheld his glory, the glory as of the only begotten of the Father,) full of grace and truth (John1:1,2,14).