Bible Lessons from Abigail,
Bathsheba and Michal
Abigail, Bathsheba and Michal were three of King David's wives. God used these three women to teach Christians about living for Him! Here are these lessons! 
The Bible describes Abigail this way "and she was a woman of good understanding" (1 Samuel 25:3). Understanding in Hebrew means:
ekel, seh'-kel; or שֵׂכֶל sêkel (H7922); from H7919; intelligence; by implication, success:—discretion, knowledge, policy, prudence, sense, understanding, wisdom, wise.
She definitely understood what was about to happen if she didn't intervene on behalf of her foolish and evil husband Nabal (1 Samuel 25:17) . David said this to her after she pleaded her cause (1 Samuel 25:23-31):
For as surely as the Lord, the God of Israel, lives, who has restrained me from hurting you, unless you had hurried and come to meet me, truly by morning there had not been left to Nabal so much as one male (1 Samuel 25:34 ESV).
Abigail ,understood the will of the Lord because within ten days of this incident the Lord slew her evil husband Nabal (1Samuel 25:37-38). Similarly today, we must understand what the will of the Lord for us:
Be very careful, then, how you live—not as unwise but as wise, making the most of every opportunity, because the days are evil. Therefore do not be foolish, but understand what the Lord's will is (Ephesians 5:15-17 NLT).
The Apostle Paul then tells us how to be in God's will:
Don't be drunk with wine, because that will ruin your life. Instead, be filled with the Holy Spirit (Ephesians 5:18 NLT).
When Paul said this he was referring back to Acts 2 when the crowd thought the 120 in the upper room were drunk on wine (Acts 2:13) but instead were drunk in the Holy Spirit. We must always have the Holy Ghost to be in God's will. We must obey the Gospel of Jesus Christ:
Repent, and be baptized every one of you in the name of Jesus Christ for the remission of sins, and ye shall receive the gift of the Holy Ghost (Acts 2:38).
Bathsheba bore a son, calling his name Solomon, and the Lord loved him (2 Samuel 12:24). Scholars believe that Lemuel in Proverbs 31:1-31 NIV, is in fact Solomon.
In the first nine verses, of Proverbs 31:1-9 NIV, Lemuel writes about instructions that he received from his mother. In the remainder of the chapter (Proverbs 31-10-31), Lemuel expounds on the virtuous women that scholars believe was his mother. No one knows for sure that Lemuel is Solomon, but we can see this possibility by the consideration and respect that Solomon had for his mother:
Bathsheba therefore went unto king Solomon, to speak unto him for Adonijah. And the king rose up to meet her, and bowed himself unto her, and sat down on his throne, and caused a seat to be set for the king's mother; and she sat on his right hand (1 Kings 2:19).
Solomon was twenty years old when he became the third King of Israel. He was renowned for his wisdom and we see that throughout the Books of Proverbs, Ecclesiastes and Song of Solomon. Solomon was raised by Bathsheba (and of course David as well), so no doubt part of Solomon's wisdom was imparted through Bathsheba. We can clearly see Solomon's respect and love for mothers in the following verses (Proverbs 1:8, 4:3, 6:20, 10:1, 15:20, 19:26, 20:20, 23:22,25, 28:24, 29:15, 30:17).
Returning to Proverbs 31, we will contend that Lemuel was in fact Solomon and the virtuous women was Bathsheba. This chapter teaches us that it is vitally important for women to impart wisdom to their children as it will be cherished later on in life.
Michal loved David  as we see here,
And Saul saw and knew that the Lord was with David, and that Michal Saul's daughter loved him (1 Samuel 18:28),
but her love for him was very conditional. It took a number of years though until David recognized that there was a problem. David was returning the Arc of the Covenant to Judah, leaping and dancing before His great and mighty God, and Michal saw him:
And as the ark of the Lord came into the city of David, Michal Saul's daughter looked through a window, and saw king David leaping and dancing before the Lord; and she despised him in her heart (2 Samuel 6:16).
When David returned to their home she mocked him for worshiping God the way that he he liked to worship God (2 Samuel 6:20) and David told her that he was worshiping the Lord who had chosen him (2 Samuel 6:21-22).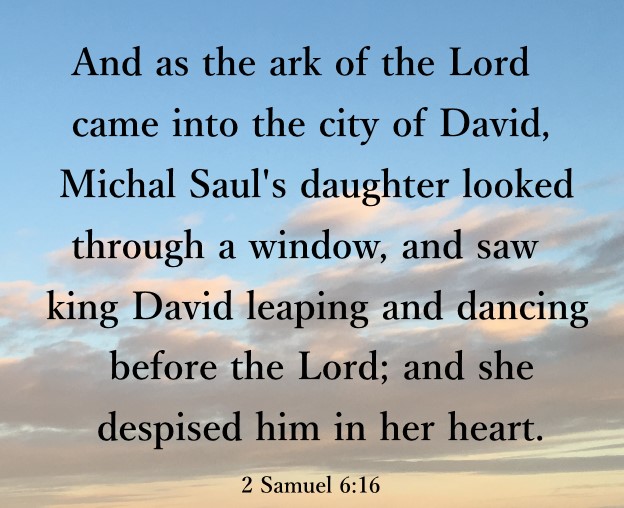 The takeaway here is clear for Christians. The Apostle Paul admonished us to not marry unbelievers (2 Corinthians 6:14). An unbeliever will never understand us when we praise and worship God the way He wants us to:
Praise ye the Lord. Praise God in his sanctuary: praise him in the firmament of his power. Praise him for his mighty acts: praise him according to his excellent greatness. Praise him with the sound of the trumpet: praise him with the psaltery and harp. Praise him with the timbrel and dance: praise him with stringed instruments and organs. Praise him upon the loud cymbals: praise him upon the high sounding cymbals. Let every thing that hath breath praise the Lord. Praise ye the Lord Psalm 150:1-6).
Let us always praise and worship God the way that He wants to be praised and worshiped, in the name of Jesus Christ we pray.