God's Masterpiece
Are we God's masterpiece?
When we humbly seek God, the Psalmist said there will be brokenness, in heart and spirit:
The sacrifices of God are a broken spirit: a broken and a contrite heart, O God, thou wilt not despise (Psalms 51:17 ).
This Psalm was written by King David. He wrote Psalm 51 after he willfully sinned; committing adultery with Bathsheba, impregnating her, trying to cover up his sins by trying to deceive her husband Uriah, and then killing Uriah so he didn't have to deal with the eventuality of facing Uriah with the truth. But God sent Nathan the prophet to force David to deal with these sins (entire passage: 2 Samuel 11:1-27, 12:1-24). He was a broken man and he repented of his sins (Psalm 51:1-19)
In life it may not be sin, that causes us to be broken, in fact just not broken, but shattered to pieces. It is just as likely to be a sin committed against us or against others that we love. This is the case with sexual or physical assault and other horrible deeds that may have happened to us or a loved one. Or it may be as simple as never have being loved as a child, or having been verbally abused. This is why psychology is such a huge business today. The belief is that the psychologist can put the pieces of one's broken life back together again. But the real Healer, came in the flesh (John 1:14, 1 Timothy 3:16) to heal the brokenhearted:
The Spirit of the Lord is upon me, because he hath anointed me to preach the gospel to the poor; he hath sent me to heal the brokenhearted, to preach deliverance to the captives, and recovering of sight to the blind, to set at liberty them that are bruised (Luke 4:18).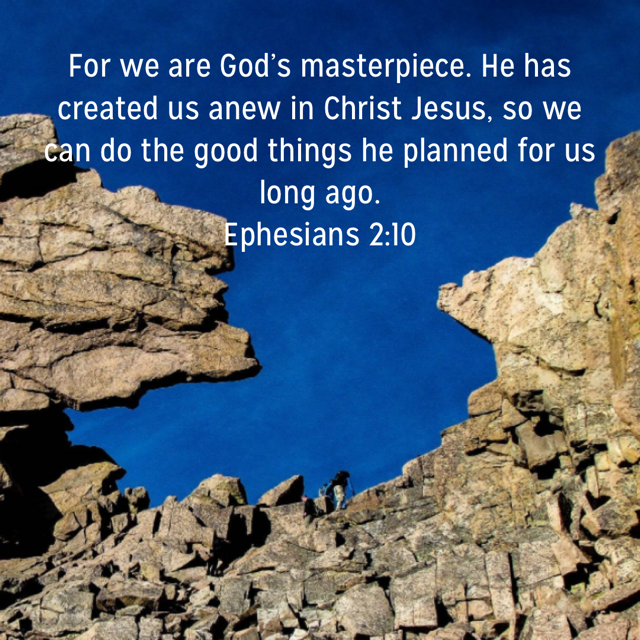 We are God's Masterpiece!
The Apostle Paul wrote in his epistle to the Ephesians:
For we are God's masterpiece. He has created us anew in Christ Jesus, so we can do the good things he planned for us long ago. (Ephesians 2:10 NLT).
Obviously Jesus is the Master that puts all the pieces  of a broken and shattered life back together. He tells us that He is the Master:
Ye call me Master and Lord: and ye say well; for so I am (John 13:13).
To be "created anew in Christ Jesus" (Ephesians 2:10 NLT), one must be born again, otherwise how can you possibly be new. Paul said the same thing to the Corinthians:
Therefore if any man be in Christ, he is a new creature: old things are passed away; behold, all things are become new. (2 Corinthians 5:17).
Only Jesus, can take a shattered and broken life, put it back together, making it into a masterpiece!
From God's Masterpiece to Repentance