Constrained by the Love of Christ
Are we constrained by the love of Christ? The Apostle Paul preaches that we should be: 
For the love of Christ constraineth us; because we thus judge, that if one died for all, then were all dead:  And that he died for all, that they which live should not henceforth live unto themselves, but unto him which died for them, and rose again (2 Corinthians 5:14-15).

Constrained for the love of Jesus Christ should be an inherent characteristic of every Christian. The easy way to explain this is to use an example that we are all familiar with - the relationship between parent and child!  No matter what happens - the love, the union, the commitment, the caring, the giving, the sacrifice, the responsibility, the expectations – it never goes away – it is for ever-present.
Our relationship with Jesus cannot be any different – the love of Christ, the grace of God, His death on the cross, His selfless love, His self-sacrifice will constrain a Christian in the same manner.
I am sure you have had this very frightening thought (or one similar), just as I have – if our child was drowning and the only way to save the child was to die our self – we would do it in a heartbeat – right?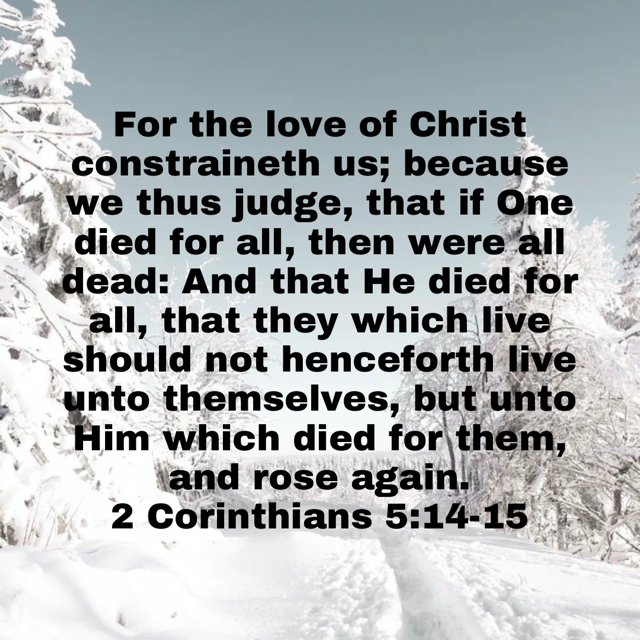 Would we do the same for Jesus?
Would we do the same for Jesus? He died for us for our salvation, so we must die to our self to be dead in our flesh for Him. If we read the opening text in the NLT, it is a little easier to see the expectation that we must die to the old life. The NLT uses the word "controls" instead of "constrains" for the Greek word synechō, but it clearly means the same thing:
Either way, Christ's love controls us. Since we believe that Christ died for all, we also believe that we have all died to our old life. He died for everyone so that those who receive his new life will no longer live for themselves. Instead, they will live for Christ, who died and was raised for them (2 Corinthians 5:14-15 NLT).

Dying to our old life is the first part of obeying the Gospel of Jesus Christ (1 Corinthians 1:1-4, Acts 2:38) - repentance. Repentance means to change, to turn fully to God, to turn one hundred and eighty degrees from a life that is full of sin. It is not that we physically die for Him, it is a symbolic death - a death that only will happen if we are truly constrained by His love.
Then to be raised up from the dead like Him, we must be buried with Him first, which is the obedience to the second part of the gospel. We do this symbolically as well when we are buried in baptism with Him, allowing us to walk in newness of life because all of our past sins are forgiven:
Know ye not, that so many of us as were baptized into Jesus Christ were baptized into his death? Therefore we are buried with him by baptism into death: that like as Christ was raised up from the dead by the glory of the Father, even so we also should walk in newness of life (Romans 6:3-4).
Repent and be baptized every one of you in the name of Jesus Christ for the forgiveness of your sins, and you will receive the gift of the Holy Spirit (Acts 2:38 ESV).

As Paul said "Jesus died for us and then was raised for us". We need to do this as well, only in the symbolic form:
But if the Spirit of him that raised up Jesus from the dead dwell in you, he that raised up Christ from the dead shall also quicken your mortal bodies by his Spirit that dwelleth in you (Romans 8:11).

When does this happen? It happens when we receive the gift of the Spirit, causing the Spirit to live in us as we just read. When this happens we have obeyed the third part of the Gospel (Acts 2:38). How do we know that we have obeyed the "resurrected" part of the gospel? God is not the author of confusion ( 1 Corinthians 14:3) - He makes it clear because He takes control of our tongues and we speak in another language as the Spirit gives the utterance (Acts 2:4, 10:46 and 19:6).
Thus, being constrained by His love results in our salvation. Hallelujah!
What happens next?
Being contained by the love of Christ until He returns or takes us will allow us to spend eternity with Him in heaven because we will always lead and live a repentant lifestyle. Can you imagine being constrained by the love of Christ and still partaking in the following sins:
Fornication
Adultery
Drunkenness
Lying
Cheating
In the page Keeping Out the Darkness, we find many other sins that should never happen if we are constrained by the love of Christ. Instead, being constrained by His love, will cause us to have many, many attributes of Christians, as seen on the page Christian Lifestyle. Glory hallelujah!
From Constrained by the Love of Christ to Not 360


From Constrained by the Love of Christ Only 180


From Constrained by the Love of Christ Christian Lifestyle