His Compassion
Throughout Jesus' earthly ministry, His compassion for humanity was vividly evident. As an example, He was moved with compassion when He healed the leper:
And Jesus, moved with compassion, put forth his hand, and touched him, and saith unto him, I will; be thou clean (Mark 1:41).
He promised us some thirty-five hundred years ago that He would heal us:
.... For I am the Lord who heals you (Exodus 15:26).

The word compassion, in the Greek (G4697), used in the scriptures below is:
splanchnízomai, splangkh-nid'-zom-ahee; middle voice from G4698; to have the bowels yearn, i.e. (figuratively) feel sympathy, to pity:—have (be moved with) compassion.
Jesus, the Son of God, was fully man and fully God. In His humanity, His bowels, His inner being, yearned for people and their hardships, suffering, needs, wants and their state of being lost. His sympathy constantly moved Him with compassion. Here are other Biblical examples of His compassion:
As a teacher:

And Jesus, when he came out, saw much people, and was moved with compassion toward them, because they were as sheep not having a shepherd: and he began to teach them many things (Mark 6:34).
Just like the Psalmist asked Him to do:
Teach me good judgment and knowledge: for I have believed thy commandments (Psalm 119:66)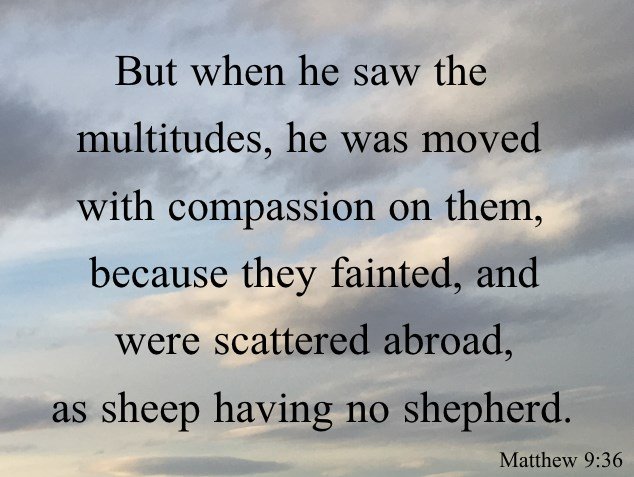 As a provider:

I have compassion on the multitude, because they have now been with me three days, and have nothing to eat (Mark 8:2).
Just like He was for Abraham:
And Abraham said, My son, God will provide himself a lamb for a burnt offering: so they went both of them together (Genesis 22:8).

As a deliverer:
And ofttimes it hath cast him into the fire, and into the waters, to destroy him: but if thou canst do any thing, have compassion on us, and help us (Mark 9:22-25).
Even when we don't remember Him, He delivers us:
And the children of Israel remembered not the Lord their God, who had delivered them out of the hands of all their enemies on every side (Judges 8:34).

As a comforter:
And when the Lord saw her, he had compassion on her, and said unto her, Weep not (Luke 7:13).
He has always comforted His people:
Comfort, comfort my people, says your God (Isaiah 40:1 ESV).

As a savior:
But when he saw the multitudes, he was moved with compassion on them, because they fainted, and were scattered abroad, as sheep having no shepherd (Matthew 9:36).
He has always been our savior:

Truly, O God of Israel, our Savior, you work in mysterious ways (Isaiah 45:15 NLT).
Lord Jesus, we are truly grateful for your compassion on our lives. Hallelujah!
From His Compassion to Compassion


From His Compassion to Born Again