Let Your Light Shine
In the Sermon on the Mount, Jesus said "let your light shine" for others to see:
You are the light of the world. A town built on a hill cannot be hidden. Neither do people light a lamp and put it under a bowl. Instead they put it on its stand, and it gives light to everyone in the house. In the same way, let your light shine before others, that they may see your good deeds and glorify your Father in heaven (Matthew 5:14-16 NIV).
In other words, Christians must be a visible light to this lost world. Jesus was the visible image of the invisible God (Colossians 1:15) and now we must be the visible image of Him:
For those whom he foreknew he also predestined to be conformed to the image of his Son, in order that he might be the firstborn among many brothers (Romans 8:29 ESV).

The same way God created light and separated it from darkness (Genesis 1:3-4), He came so we have light instead of darkness in our lives:
To give knowledge of salvation unto his people by the remission of their sins, Through the tender mercy of our God; whereby the dayspring from on high hath visited us, To give light to them that sit in darkness and in the shadow of death, to guide our feet into the way of peace (Luke 1:77-79).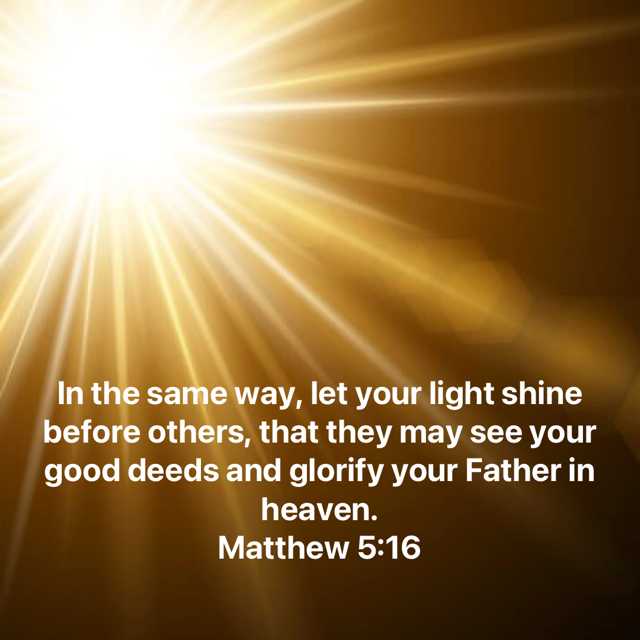 The Light
Isaiah prophesied that the Light would come to us:
Arise, shine; for thy light is come, and the glory of the Lord is risen upon thee. For, behold, the darkness shall cover the earth, and gross darkness the people: but the Lord shall arise upon thee, and his glory shall be seen upon thee. And the Gentiles shall come to thy light, and kings to the brightness of thy rising (Isaiah 60:1-3).
Jesus, came as prophesied (John 1:1,14, 1 Timothy 3:16), declaring that He is the Light and Christians shall have the Light of life:
Then spake Jesus again unto them, saying, I am the light of the world: he that followeth me shall not walk in darkness, but shall have the light of life (John 8:12).
And His glory makes the heavens shine today and forever:
And the city had no need of the sun, neither of the moon, to shine in it: for the glory of God did lighten it, and the Lamb is the light thereof (Revelation 21:23)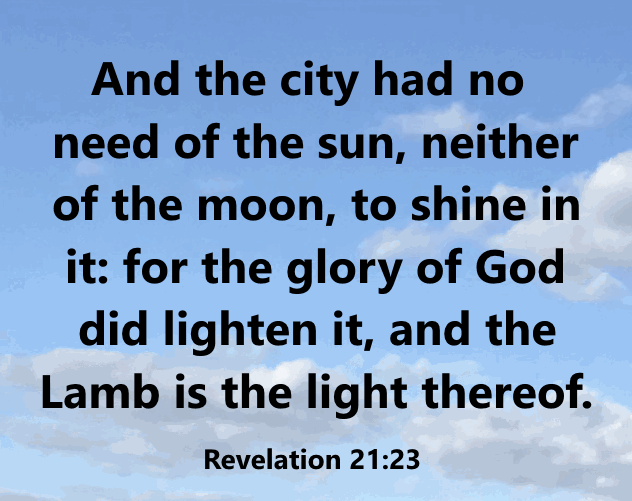 Darkness Cannot Hide
It is impossible for darkness to hide from the Light as Isaiah reasons:
What sorrow awaits those who try to hide their plans from the Lord, who do their evil deeds in the dark! "The Lord can't see us," they say.  "He doesn't know what's going on!" How foolish can you be?  He is the Potter, and he is certainly greater than you, the clay! Should the created thing say of the one who made it, "He didn't make me"? Does a jar ever say, "The potter who made me is stupid" (Isaiah 29:15-16 NLT).
The Psalmist said that darkness and light are the same to God:
I could ask the darkness to hide me and the light around me to become night but even in darkness I cannot hide from you. To you the night shines as bright as day.   Darkness and light are the same to you (Psalm 139:11-12 NLT).

How can that possibly be? Because God gave everybody a measure of faith:
For I say, through the grace given unto me, to every man that is among you, not to think of himself more highly than he ought to think; but to think soberly, according as God hath dealt to every man the measure of faith (Romans 12:3 ).
Salvation is available to every soul - to all of the 7.8 billion people that inhabit the earth today. Jesus loves the sinner, but hates the sin, the darkness in people's lives. That is why He said:
To open their eyes, and to turn them from darkness to light, and from the power of Satan unto God, that they may receive forgiveness of sins, and inheritance among them which are sanctified by faith that is in me (Acts 26:18).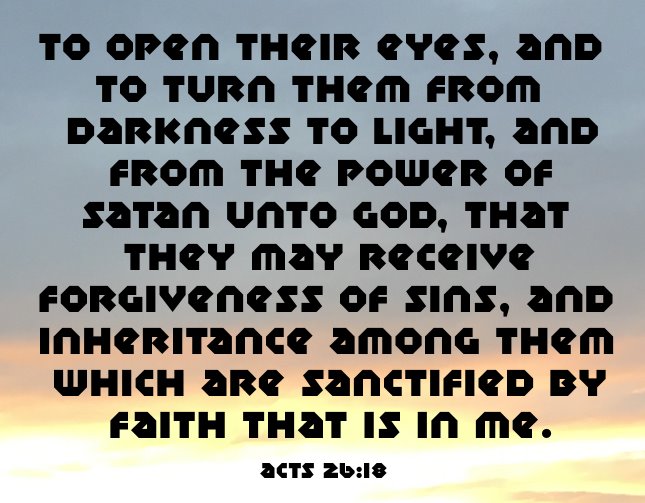 He came to earth to be the Light that would shine out of darkness, and in fact, would shine in our hearts:

In whom the god of this world hath blinded the minds of them which believe not, lest the light of the glorious gospel of Christ, who is the image of God, should shine unto them. For we preach not ourselves, but Christ Jesus the Lord; and ourselves your servants for Jesus' sake. For God, who commanded the light to shine out of darkness, hath shined in our hearts, to give the light of the knowledge of the glory of God in the face of Jesus Christ (2 Corinthians 4:4,5,6). 
That is why He died on the cross, was buried and rose from the dead, giving us the loving gospel to obey, allowing Him, the Light to take residence in our heart. Go to "Obeying the Gospel" to fully understand that by being born again, the Light takes residence in our heart.
Today Let Your Light Shine
Let your light shine today is instruction from God that we should obey, right?  A worldly person must be able to see a difference between us and them. We need to be a reflection of the Light that is clearly visible. Are we going to be perfect? No, we are not! But that doesn't mean we shouldn't try, every minute, every hour, every day to let our light shine. When we fail, we must repent and continue to shine for Him. The Psalmist says we should constantly shine for Him, from youth to the twilight of our life:
O God, you have taught me from my earliest childhood, and I constantly tell others about the wonderful things you do. Now that I am old and gray, do not abandon me, O God. Let me proclaim your power to this new generation, your mighty miracles to all who come after me (Psalm 71:17,18).
Let Your Light Shine by Keeping Darkness Out
Today, "let your light shine" must include keeping darkness out. How can our Light shine to others, if we act and behave like the world. Go to Keeping Out the Darkness to see a list of carnal behaviors that never can be a light to the world.
Let Your Light Shine by Living a Christian Lifestyle
If we live a Christian lifestyle, we will never have to worry about darkness pervading our lives, for the most part anyway. I say for the most part because we are not perfect and will not be perfect until we join Jesus in heaven.
Here are ten points described in Christian Lifestyle about living the life of a Christian:
Knowing God does not lie (Numbers 23:19)
Increasing our joy in the Lord (Isaiah 29:19)

Being doers of the Word (James 1:22)

Seeking peace (1 Peter 3:11)
Teaching and preaching the Gospel (Mark 16:15, Matthew 28:19)
Knowing Jesus gives us peace (John 14:27)
Being tender-hearted (Ephesians 4:32)
Seeking righteousness (Matthew 6:33)
Knowing the Bible is inspired by God (2 Timothy 3:16)

Bringing into the captivity every thought to the obedience of Jesus Christ (2 Corinthians 10:5)
There are many, many more points that are listed there about living the life of a Christian. Go here to see them all. We will all be able to add more Christian behaviors to this list as we read and study the Bible.
If we shun the darkness and consistently live the life of a Christian, our Light will shine before others. No doubt they will see our good deeds and glorify Jesus Christ.
From Let Your Light Shine to Eternal Life