Cake Not Turned
A "cake not turned" is an analogy that Hosea uses to depict the spiritual condition of the Northern Kingdom of Israel before it was conquered by the Assyrians, around 722 BC. Hosea was a contemporary of Isaiah.
Hosea wrote:
Ephraim, he hath mixed himself among the people; Ephraim is a cake not turned (Hosea 7:8).
Ephraim is the tribe often used in the Bible to represent the ten Northern tribes of Israel. Ephraim was the second son of Joseph and was born in Egypt (Genesis 41:52; 46:20). Jacob blessed Ephraim instead of Manasseh (Genesis 48:10), the eldest son of Joseph. Ephraim means "double fruitfulness".
If we read the entire chapter (Hosea 7:1-16 NLT) we can glean the meaning, in God's eyes, of a "cake not turned". It is easy to get a good visual of this phrase when we think of eating a pancake that has not been flipped. Our stomach turns just thinking about it, just like it must have turned God's stomach when He saw His people worship and serving idols instead of Him. The Psalmist explained how God felt about Israel's spiritual adultery:
Israel failed to destroy the nations in the land,    as the Lord had commanded them. Instead, they mingled among the pagans,    and adopted their evil customs. They worshiped their idols,    which led to their downfall (Psalm 106:34-36 NLT). They defiled themselves by their evil deeds,    and their love of idols was adultery in the Lord's sight (Psalm 106:39 NLT).
Jeremiah did as well:
The Lord said also to me in the days of Josiah the king: "Have you seen what backsliding Israel has done? She has gone up on every high mountain and under every green tree, and there played the harlot. And I said, after she had done all these things, 'Return to Me.' But she did not return (Jeremiah 3:6-7 NKJV).

Surely, as a wife treacherously departs from her husband, So have you dealt treacherously with Me, O house of Israel," says the Lord. A voice was heard on the desolate heights, Weeping and supplications of the children of Israel. For they have perverted their way; They have forgotten the Lord their God (Jeremiah 3:20 -21 NKJV).
Isaiah called Ephraim hypocrites and evildoers:
Therefore the Lord shall have no joy in their young men, neither shall have mercy on their fatherless and widows: for every one is an hypocrite and an evildoer, and every mouth speaketh folly. For all this his anger is not turned away, but his hand is stretched out still (Isaiah 9:17).
Even though God was angry with Ephraim, as we see from the above verses God was always ready for them to repent, to turn back to Him and it is no different today as we read in Acts 2:1-47.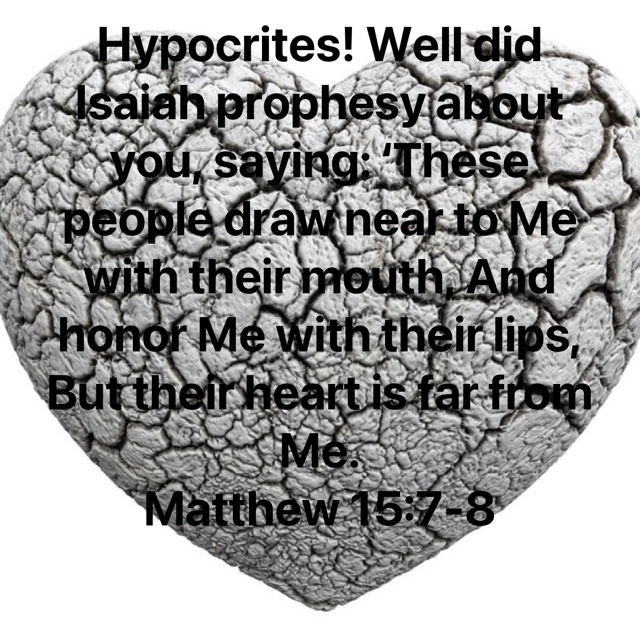 Making Application of a "Cake Not Turned"

As Christians, we must do our very best to not be a "cake not turned".  Jesus warns us about being hypocritical.
Hypocrites! Well did Isaiah prophesy about you, saying: 'These people draw near to Me with their mouth, And honor Me with their lips, But their heart is far from Me. And in vain they worship Me, Teaching as doctrines the commandments of men.' (Matthew 15:7-8 NKJV).
Strong's definition of a hypocrite is "an actor under an assumed character". Really simple! A cake not turned acts the part of being a Christian, just like Ephraim, they only acted the part of being God's people. Let us study the word of God to see where it is easy to go astray.

God Must Come First
God was upset with the Israelites because they departed from Him ((Hosea 1:2) and turned to the religions of the people they mixed with. This is exactly why He called them a cake not turned.
So today, who do we love with all our heart, soul and mind? (Matthew 22:37) Who do we obey? (John 14:15) Who do we have faith in? (Mark 11:22) Who do we trust in? (Romans 15:12) Who is our hope in? (Colossians 1:27) Who do we believe in (John 8:24)? If it is not Jesus Christ, we are only acting the character of a Christian, we are being a cake not turned.
Be a Doer of the Word
The Jewish people have always believed there is only one God as it was part of their Bible, just as it is ours:

Hear, O Israel: The Lord our God is one Lord (Deuteronomy 6:4),
and how they should love Him:
And thou shalt love the Lord thy God with all thine heart, and with all thy soul, and with all thy might (Deuteronomy 6:5).
Were the Israelites doers of the Word of God? When Israel split into the North and South Kingdoms, King Jeroboam made golden calves for gods for the Northern Kingdom (Ephraim):
And now ye think to withstand the kingdom of the LORD in the hand of the sons of David; and ye be a great multitude, and there are with you golden calves, which Jeroboam made you for gods (2 Chronicles 13:8 ).
How many times do we go to church, here a sermon that speaks to our heart on a Sunday and then on Monday morning get up and act and be exactly like we did before we heard the preaching? The Apostle James instructs us to be doers and not hearers only:

But be doers of the word, and not hearers only, deceiving yourselves. For if anyone is a hearer of the word and not a doer, he is like a man observing his natural face in a mirror;  for he observes himself, goes away, and immediately forgets what kind of man he was. But he who looks into the perfect law of liberty and continues in it, and is not a forgetful hearer but a doer of the work, this one will be blessed in what he does (James 1:22-25 NKJV).
A cake not turned can hear the Word but not always be a doer of it!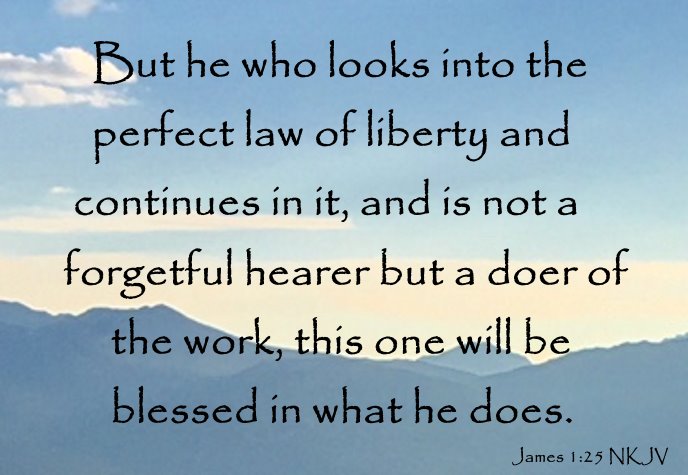 Never Be a Friend of the World
This is exactly what happened to Ephraim. Instead of destroying the Canaanites (Deuteronomy 7:1-2), they mixed with them and were led astray by their gods. James warns us not to be a friend the world lest we want to make God an enemy:
Adulterers and adulteresses! Do you not know that friendship with the world is enmity with God? Whoever therefore wants to be a friend of the world makes himself an enemy of God (James 4:4 NKJV).
We need to ask ourselves, is watching a television or attending a movie worldly? The Psalmist said:
I will set nothing wicked before my eyes; I hate the work of those who fall away; It shall not cling to me (Psalm 101:3 NKJV).
What is broadcast on television or produced in movies is full of nudity, pornography, fornication, adultery, homosexuality, murder, rape, drunkenness, revelry, greed, envy, murder, strife, sorcery, extortion, etc. The same thing applies to the internet if we are using it to watch sin. How can we possibly not be a cake not turned Christians if we entertain ourselves by watching sin?
Church Attendance
In the 6th Century BC the house of the Lord was repaired (2 Kings 22:5 NKJV) as part of the revival inspired by King Josiah. While doing the repairs they found a copy of the Book of the Law (2 Kings 22:8). Not only were God's people not going to the Temple, they had no Bible either. It is little wonder that the nation was backslidden. It is no different today! Millions and millions profess to be Christians and don't attend church services and their Bibles are nicely placed in a book shelf to gather dust.
How can we possibly claim we are Christians and miss church services? The word of God clearly says not to forsake going to church:
Not forsaking the assembling of ourselves together, as the manner of some is; but exhorting one another: and so much the more, as ye see the day approaching (Hebrews 10:25).
Also, we should not miss church because we are an integral part of the body of Christ as the Apostle Paul explains in 1 Corinthians 12:12-27 NKJV. The church needs each and every one of us.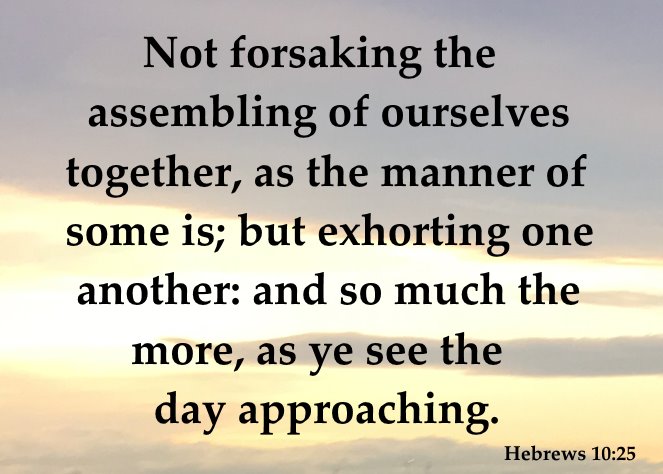 Being Equally Yoked
How could we possibly believe that if we unite with someone (say in marriage or a business partner) who does not have exactly the same faith as us that we would not be led astray at some point in time during the relationship, much like what happened to Ephraim (Hosea 7:8). The Apostle Paul instructs us not to do this, using "unequally yoked" as a metaphor:
Do not be unequally yoked together with unbelievers. or what fellowship has righteousness with lawlessness? And what communion has light with darkness (2 Corinthians 6:14 NKJV)?
The wisest man ever, King Solomon, was led astray by his pagan wives, princesses and concubines (1 Kings 11:1-4) causing God to be so angry with him (1 Kings 11:9) that He ripped Solomon's kingdom in two (1 Kings 11:13).
Forgiveness
Just think for a moment if you know a Christian that won't forgive you or someone else. We most likely didn't have to think too hard to come up with a face that fits the bill. In fact, maybe if we look in the mirror we might find that very person. Jesus says,
For if you forgive men their trespasses, your heavenly Father will also forgive you. But if you do not forgive men their trespasses, neither will your Father forgive your trespasses (Matthew 6:14-15 NKJV).
Take heed to yourselves. If your brother sins against you, rebuke him; and if he repents, forgive him. And if he sins against you seven times in a day, and seven times in a day returns to you, saying, 'I repent,' you shall forgive him" (Luke 17:3-4 NKJV).

How can an unforgiving heart be anything but a cake not turned heart?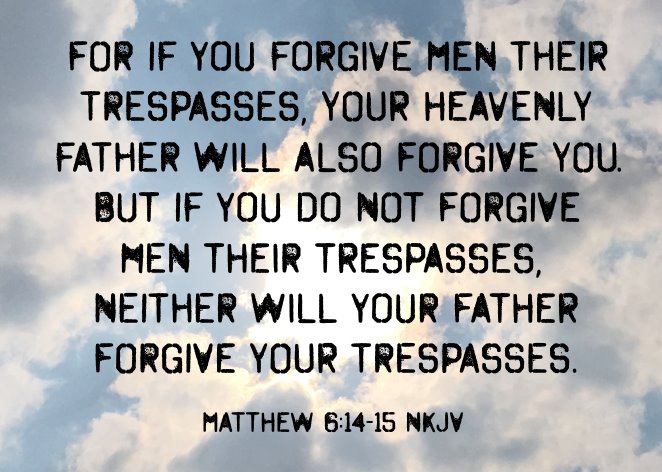 Giving the Glory to God
How many times every single day of our lives do we forget to thank God for what He does for us? It may be a prayer answered, or a problem in our lives that He just handles, or a healing, or a myriad of other blessings and favors He gives us; which all pales in comparison to the fact that He crucified Himself on the cross for our salvation. The problem is that by not giving Him the glory for all He does and for all He has done for us, we start to think that is something that we have done ourselves or someone else has done instead of what Jesus did. The Bible says:
That no flesh should glory in his presence (1 Corinthians 1:29).

Therefore, whether you eat or drink, or whatever you do, do all to the glory of God (1 Corinthians 10:31).

The problem of forgetting what God has done, is exactly what happened to the Israelites:
They forgot God, their savior, who had done such great things in Egypt — such wonderful things in the land of Ham, such awesome deeds at the Red Sea (Psalm 106:21-22 NLT).
Not only did they forget about their savior, they traded Him in:
They traded their glorious God for a statue of a grass-eating bull (Psalm 106:20 NLT).

To not give all the glory to Jesus Christ is a very slippery slope where we can easily become a cake not turned.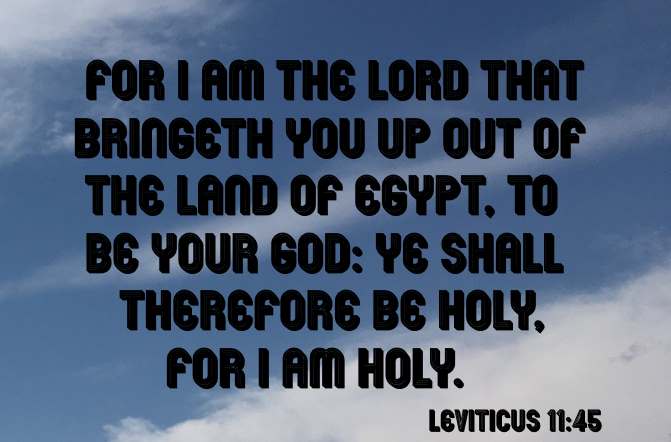 Holiness
God told the Israelites while they were still lost in the wilderness that they were a holy people and special to Him:
For thou art an holy people unto the Lord thy God: the Lord thy God hath chosen thee to be a people unto himself, above all people that are upon the face of the earth (Deuteronomy 7:6).
He also told them:
For I am the LORD that bringeth you up out of the land of Egypt, to be your God: ye shall therefore be holy, for I am holy (Leviticus 11:45).
And the Apostle Peter reiterated this admonition:
Because it is written, Be ye holy; for I am holy (1 Peter 1:16).
Holy means to be separated from the world and consecrated to God. As Christians, if we have sin in our lives, how can we possibly be His special people that are separated from the world and consecrated to Him? When the world sees sin in our lives, it encourages them to sneer at Christianity; thinking or sometimes even saying "Why do I want to be like them, they do the same things that I do"? Without holiness, we will not be special, we will be a cake not turned.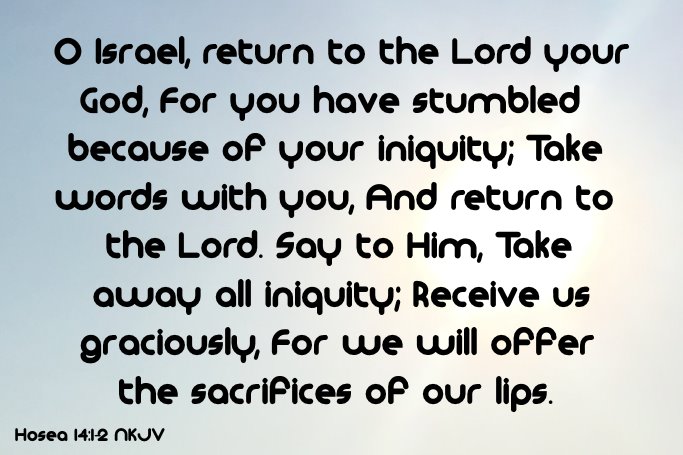 Repentance
God wanted Ephraim to return to Him, to repent, so He would heal their backslidden ways, loving them freely:
O Israel, return to the Lord your God, For you have stumbled because of your iniquity; Take words with you, And return to the Lord. Say to Him, "Take away all iniquity; Receive us graciously, For we will offer the sacrifices of our lips.  Assyria shall not save us, We will not ride on horses, Nor will we say anymore to the work of our hands, 'You are our gods.' For in You the fatherless finds mercy." "I will heal their backsliding, I will love them freely, For My anger has turned away from him (Hosea 14:1-4 NKJV).
But Ephraim did not repent, they did not change their ways, they remained a cake not turned and God allowed them to be conquered by Assyria.
The Apostle Paul says that he repents, dies to self, on a daily basis:
I affirm, by the boasting in you which I have in Christ Jesus our Lord, I die daily (1 Corinthians 15:31 NKJV).
If the Apostle Paul had to die to self daily, it is easy to see that we must die to self daily as well. Repentance means to change, to turn to Jesus Christ and what He wants for us. Through repentance, a cake not turned, can always return to being His chosen and special people:
But you are a chosen generation, a royal priesthood, a holy nation, His own special people, that you may proclaim the praises of Him who called you out of darkness into His marvelous light (1 Peter 2:9 NKJV).

Summary
Let us all not be a cake not turned. Instead, let us always:
Put Jesus first in our daily lives
Be doers of the Word of God
Be in the world but not be a friend of the world
Attend church services regularly
Never be "yoked" to a non-believer
Be forgiving
Give the glory to Jesus Christ
Practice holiness
Lead and live a repentant lifestyle
From Cake Not Turned to Turn to Me